Bacolod — Cebu Country Club will be shooting to win the centerpiece Men's title in the Philippine Airlines Interclub starting Wednesday here, and if successful, the squad will be writing a piece of tournament history no team has ever done before.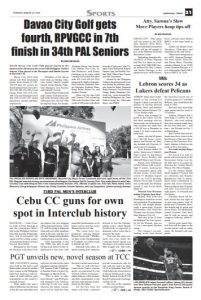 Relegated to the Founders Division with three of its top players last year begging off for personal reasons, Cebu CC will be trying to duplicate what only one other squad has done in the past, and that is to win the Championship diadem coming from a lower division.
Only Aguinaldo in the late 1980s was able to pull off that trick before Cebu CC duplicated it last year with masterful performances at its home course and the tricky Mactan layout in Cebu.
"We came here very prepared," playing skipper Bayani Garcia said. "Whether we play in the Championship or Founders, we will be ready to defend our title."
Interclub rules allow for teams coming from whatever division to win the Championship crown, which Manila Southwoods is expected to dominate with a roster that is armed to the teeth.
That was the same scenario last year when the Carmona-based squad was shooting to win a team record fifth straight title. But Cebu CC spoiled the party as it played under everyone's radar on the first day to take the lead it never relinquished.
Southwoods, Del Monte and Luisita, squads that have solid young programs, are the only teams campaigning in the Championship division.
Yuto Katsuragawa, the pro-bound Japanese, will lead Southwoods' charge together with the reactivated Vince Lauron, the former pro who has stayed in great game shape despite attending to numerous businesses.
Hosted by the Philippine Airlines, the international event was backed by platinum sponsors Asian Air Safari, Vanguard Radio Network, Fox Networks Group, Radio Mindanao Network, Inc., Asian Journal Publications Philippines, Inc., Auto Nation Group, Inc. (Mercedes Benz), and SMDC.
Major sponsors include The Boeing Company, University of Mindanao Broadcasting Network, Avolon Aerospace Singapore Pte Ltd, Manila Broadcasting Company, Primax Broadcasting, Rolls-Royce Singapore Pte Ltd, CIGNAL TV Inc., Travellers International Hotel Group Inc. (Resorts World), and Airbus.
Other supporters are Uniglobe Travelware Co., Inc. (The Travel Club), Philippine Manila Standard Publishing Inc. (Manila Standard), Officine Corporation, GE Aviation, SEDA Hotels, BDO Unibank, Smart Communications, Inc., People Asia Magazine, A+E Networks Asia (History), Allianz PNB Life, Phoenix Petroleum Philippines, Tanduay Brands, Rockwell Land Corporation, Petron Corporation, Splash Corporation, AB Heineken Philippines Inc., and Asia Brewery Inc. – Summit.