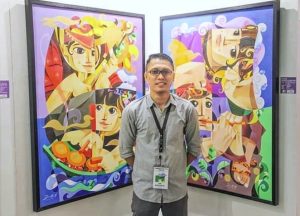 Normally, when local artists exhibit their artworks, the paintings are set in 2 feet x 2 feet, or 2 feet x 3 feet, or even 1 foot x 1 foot sized canvasses. This time, eight of Davao's most prolific visual artists are upping the ante by opening today, February 29, a first of its kind ensemble exhibition at the 3rd level of Abreeza Ayala Mall.
"The idea to hold an exhibit of large sized artworks – 4 feet x 7 feet – sprung up from a discussion I had with Arnel (Villegas) last year. We realized that no one has done anything like that before. Maybe we can take the lead," said painter Alex Alagon, who is also an art coach, curator, and impressario. He has organized art shows in his very own Bintana Art Gallery.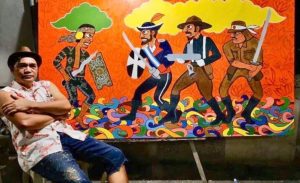 Alagon and Villegas both wanted to prove "that big works can be done" even if local art buyers have gotten used to smaller-sized artworks.
Villegas, of course, is a well-known pen-and-ink artist and one of the founding members of Davao Camera Club. Over the past decades, his works have been paraded in national and international exhibitions.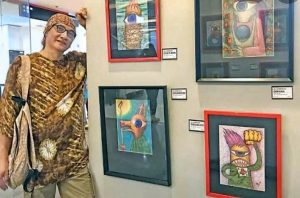 "We are excited with this show, which will run until March 8. Most of us will showcase flowers, or elements of it, in our pieces especially that the Floral Artists of Davao is fully supporting this project," shared Jonathan "Cacho" Ferrero.
As an impressionist, he is enamored in evoking positivism and appreciation of nature and the simple things in life. Before he made public his passion in visual arts, Ferrero was already known in the local music scene as a musician, musical arranger, choir director, and creative arts hobbyist.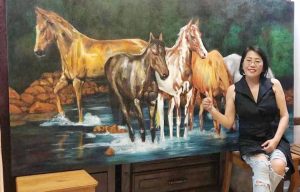 Joining them are Josie Tionko, JC Gonzales, Jing Caycay-Rabat, Tanya Gaisano-Lee, and Donn Manguilumitan.
Tionko, a colorist known for her flower and nature artworks, started painting when she opened and managed Asiatic Gallery and Liburon Art Gallery back in the 80's. She is currently the president of the Dabawenyo Artist Federation, Inc.
A self taught and critical thinker, Gonzales was then a cartoonist for a number of local newspapers and magazines from the 80s to early 90s. A founding member of Lakbay Diwa Artists Collective and Davao Artists Foundation, his works often mirror the social and political issues of the times.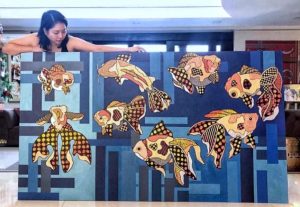 A resident of Mati City, Caycay-Rabat is perhaps the most recent to dabble in the arts among the artists in the group. Her journey started only in 2012 when she took her first canvas painting lessons. However, today, she is already celebrated for her "bold strokes and unpredictable choice of colors that echoes her daring character."
Meanwhile, travel inspires Gaisano-Lee's oeuvres, a creation of ink and acrylic. The themes in this Filipino-Chinese contemporary artist often vary from wildlife to human anatomy to her own journey to motherhood and struggles of conception.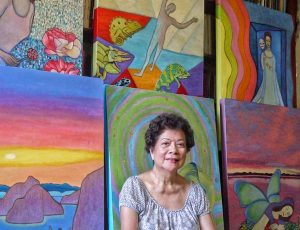 At 34, Manguilumitan may be the youngest in the group but he has shown more than just promise. With his cubist art style, he has gained the respect of the art world especially when he won the Lantaw Davao and Mugna Kadayawan Wall Art Competition in 2019. "4 by 7 by eight" is the abovementioned artists contribution to the city's celebration of the National Arts Month. The exhibit is supported by Abreeza Ayala Mall, Bintana Art Gallery, and PBA Party List.