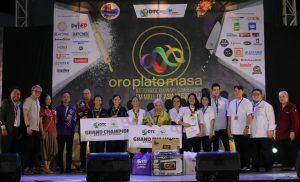 Manila, Philippines. Miriam College emerged as the Grand Prize Winner of the Dessert Category while Lyceum of the Philippines Manila bagged the Grand Prize for the Savory Category in the recently concluded Oro, Plato, Masa Nationwide Culinary Competition at the SM Mall of Asia Music Hall.
Guest of honor DEPED Secretary Leonor Magtolis Briones, lauded the project and expressed her desire for more partners sponsors and partners to come in to support this competition in the future.
Joining Secretary Magtolis during the awards were DOT Asst. Sec. Verna Esmeralda Buensuceso, DTC Chairman & CEO Ed Dames, Lenovo Country Manager Mike Ngan , ALC Media Group Vice President Marvin Estigoy and the board of judges.
Chaired by ASEAN Master Food Assessor Chef Ellen Rivera, the judges for the competition were Unilever Food Solutions Senior Sous Chef J. Brando Santos, Actor and Chef/Owner of Avenue 75 Sports Bar Jose Sarasola, Chef Greggie Mercado and DTC Promos Inc. President & COO, Marissa Ngan Dames.
Laptops, ovens, cooking equipment and other prizes were awarded to the following winners:
From Miriam College: Grand Prize Winner – Dessert Category
Franz Ansherina Maniti and Andrea Isabel Ereno
Coaches : Jahziel Jeanne V. Leuterio / Lawrence Erfe
From Lyceum of the Philippines Manila: Grand Prize Winner – Savory Category
Ma. Cheres Delos Santos and Lyza Andrea Cagalpin
Coach : Gavin Russell
Meanwhile, the other winners were:
Dessert Category
First Runner Up – University of Santo Tomas
Represented by Aira Joy Victorino and Carylle Angela Lapitan
Coach: Reinald Andaya
Second Runner Up – STI Pasay-EDSA
Represented by Joenna Calixto and Danika Sarate
Coach: Roseshell Suico
Savory Category
First Runner Up – Advance Central College of Antique
Represented by Genie Q. Patanindagat and John Aaron Ponsaran
Coach: Mary Rose Gemma Rodriguez
Second Runner Up – Miriam College
Represented by Jamaica Marie Marcelo and Ma. Althea Nicole Supleo
Coach: Jahziel Jeanne Leuterio
Marissa Dames, the advocate of this CSR project was happy to note that the winners were among the 18 Finalist teams chosen from 96 entries from 76 participating schools nationwide.
"I am truly thankful to all our partners, sponsors the media and the participating schools for helping us make this dream a reality. The student chefs and their coaches have affirmed what we have always known: that our student chefs are quite talented and creative and just need exposure and support to better equip them when they join the ranks of professional chefs."
Chef Lawrence Erfe, the adviser of the Miriam College team says that "exposing ourselves to the contest will definitely help boost our program and inspire the next batch of students. Given the guidelines of the competition and its emphasis on local ingredients, our dishes were inspired by how we understand our skill level and for our love and mastery of Filipino cuisine and its bountiful harvest from land and sea. Through Oro, we can challenge our students to be more creative and empower them with proper skills and correct attitude and discipline needed to become food and beverage professionals."
Chef Gavin Russell, the coach for Lyceum of the Philippines Manila team, also confirms that joining Oro gave their students top quality experience, recognition from industry leaders, training and helps in networking and enhancing the reputation of the school and the students.
Oro, Plato Masa was presented by SM Supermalls in cooperation with the Department of Education, Department of Tourism through its Tourism Promotions Board, the Manila Bulletin, Metro Channel, Business Mirror, Unilever Food Solutions, LENOVO, Masflex and the City of Manila.
The Grand Winners won Lenovo laptops while other winners received Bamix Mixers from Focus Global, kitchen equipment and products from Unilever Food Solutions (UFS), Masflex, Oleo Fats and Sonlie.
This landmark event was also supported by the Manila Bulletin, Business Mirror, Metro Channel, Cook Magazine, Health & Fitness, Pilipino Mirror, DWIZ, 97.9 Home Radio, Philippines Graphic, UNOX, All About Baking and Kitchen Aid, Oleo Fats, Knorr, Lady's Choice Mayonnaise, Brooklyn's New York Pizza, Blizzard Chillers, Kink Cakes and Mount Fuji Rice.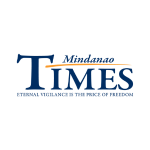 Advertiser posts are paid posts published by Mindanao Times. For inquiries, message us at our Facebook Page, www.facebook.com/MindanaoTimes.