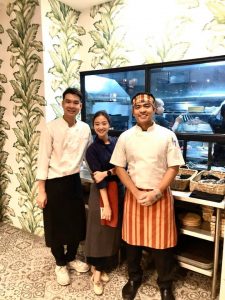 "It was sometime in 1985 when the lechon manok fad in Manila became such a news item. We'd read about its popularity and very appealing taste to the Pinoy palate. A friend encouraged us to bring the business over to Davao City," recalled Rommel Villanueva Benedicto, the man behind the Patok sa Manok which is reputed to have served Davao's "first lechon manok."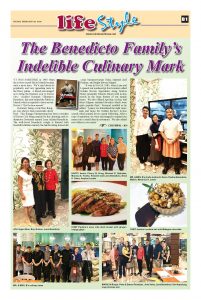 Rommel, being a true blue Ilonggo, has always been passionate about food. This Ilonggo businessman has been a resident of Davao City being married to the charming and industrious Davaoeña named Lena Atilano-Benedicto. The well-loved Benedicto couple is blessed with beautiful children namely the hardworking housewife come businesswoman Tisha, talented chef Pauline, and bright lawyer Miguel.
"It was in Nov.18, 1985, when Lena and I opened our nondescript food counter called Golden Brown Specialties along Malvar Street (presently Duterte Street) with lechon manok as the main feature of our simple menu. We also offered tapsilog, tocilog, and other Filipino standard favorites which were quite popular then," Rommel recalled as he added, "I guess we formulated the right marinade and sauce for Golden Brown's lechon manok which earned for us a great following. After a year of operation, we were encouraged to expand our eatery into a small dine-in restaurant. We also added new dishes in our menu."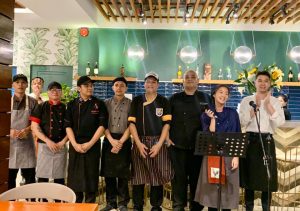 The Benedictos' Patok sa Manok and Golden Brown food business became a success in 1987.
Rommel and Lena had to take cooking lessons themselves in Manila annually to be able to compete in the city's crowded food business.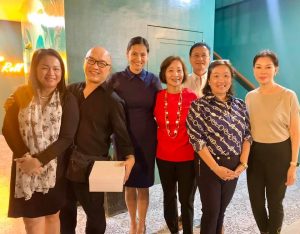 "Believe me, but you have to have the passion, perseverance and endurance to be in this business. You are never guaranteed with a loyal clientele to patronize your food on a regular basis. It's tough competition each restaurant is facing especially in offering quality food at the most reasonable prices. Customers will always want value for their hard earned money. As a family man, I can understand the expectations and demands. That is why I decided on featuring traditional, home-cooked meals like kare-kare, caldereta, pancit and barbecues which Filipino families love to eat," explained Rommel as he continued, "And running a restaurant is tough. I am a hands-on type when it comes to running a business. I still wake up early to start my day buying fresh market supplies and go home late after closing the restaurants and food stalls."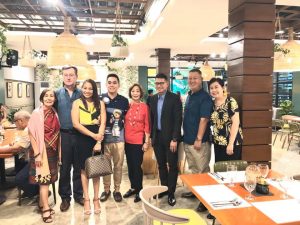 Rommel and Lena Benedicto's triumph in the three decades old Patok sa Manok and Golden Brown is truly hard-earned and admirable.
Then in April of 2015, Rommel and Lena opened their sleek, steel and glass restaurant for their more sophisticated clients and friends with discriminating taste along Jacinto Extension which they named Rekado. "Rekado features Filipino comfort cuisine at its best. There are so many restaurants by then in Davao offering various foreign cuisines but we know by heart that Filipinos will always go back to Filipino comfort food anytime," revealed the now veteran restaurateur Lena. And this time, Rommel and Lena have their own professional chef in their beloved daughter, Pauline Benedicto-Malilin, taking charge of the kitchen. "Comfort cuisine in Davao will continue to be at the forefront of the innovation and elevation of local cuisine," Pauline emphasized then.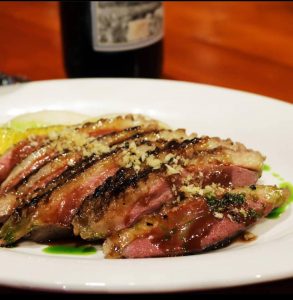 Five years after, with chef Pauline taking over the reign of the Benedicto family's food business, the brave and tireless young chef launched "Mr. & Mrs. B.," a specialty restaurant last February 23. "This time we are offering our version of Asian and Continental fusion cuisines which we love as inspired by our culinary experiences in foreign countries we have visited. Mr. & Mrs. B. is a tribute to my hardworking mom and dad who have, undeniably, made their indelible culinary mark in Davao City after 35 well spent years in the food business."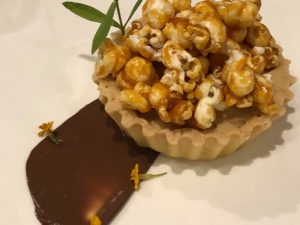 Chef Pauline Benedicto-Malilin, the Exec. Chef of Mr. & Mrs. B. and Rekado has partnered with chef Justine N. Sison and chef Maverick A. Javier. All three young, bright, creative and talented chefs studied and were mentored by renowned chefs of the Global Academy. The Global Academy in Quezon City is a premier world-class culinary school with the mission to give Filipinos access to top quality culinary education.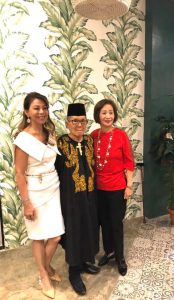 I wish the Benedictos all the best in their culinary legacy in Davao City.