Bacolod City – Van City and Lumbia surged into the lead in their respective divisions at the start of the 34th Philippine Airlines Seniors Interclub golf team championships Wednesday.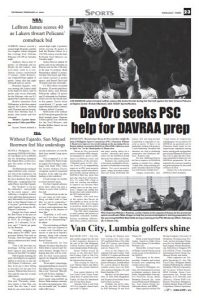 Romy Vallejo scored 48 points at the Bacolod Golf and Country Club as Van City opened with 120 points to lead the Sportswriters division.
Also scoring for Van City were Alfonso Marzo and Mario Taguiam who posted identical 36s.
Four points behind at 116 was Team Coral Ocean Point which drew 41 points from Alex Tudela, 40 from Ed Manibusan and 35 from Rick Kautz.
Veterans Team A and Club 1872-Los Angeles shared third spot with 113 apiece.
Scoring for Veterans were Jose Cortina (42), Julio Cada (37) and Danilo Baya (34) while Club 1872 scorers were Homer Punsalan (42), Jim Bernal (36) and Leo Tejano (35).
Over at the Negros Occidental Golf and Country Club (NOGCC), Lumbia and Bacolod were separated by only one point with Cotabato and Dirab just five points off the pace, Lumbia tallied 94, a point ahead of Bacolod. Lumbia scorers were Leo Solis (36), Amancio Morados (31) and Butch Santillan (27).
Bacolod, on the other hand, drew 41 from Allan Magallanes and 26 apiece from Arthur Ponce and Gerardo Javelosa.
Cotabato was led by Johnson Ng who fired 36 followed by Pete Balinang 28 and Noel Ybanez 25.
Dirab, a team based in Saudi Arabia, leaned on Eddie Ejusa (35), Eleno Sunas (31) and Mario Marimon (23).
Meanwhile, Conrad Casem of Philam Central Florida scored a hole-in-one in the third hole of the NOGCC.
Participants in the championship, Founders and Aviator divisions were completing their rounds at press time.
Hosted by Philippine Airlines, the international event has as platinum sponsors: Asian Air Safari, Vanguard Radio Network, Fox Networks Group, Radio Mindanao Network, Inc., Asian Journal Publications Philippines, Inc., Auto Nation Group, Inc. (Mercedes Benz), and SMDC.
Major sponsors include The Boeing Company, University of Mindanao Broadcasting Network, Avolon Aerospace Singapore Pte Ltd, Manila Broadcasting Company, Primax Broadcasting, Rolls-Royce Singapore Pte Ltd, CIGNAL TV Inc., Travellers International Hotel Group Inc. (Resorts World), and Airbus.
Other supporters are Uniglobe Travelware Co., Inc. (The Travel Club), Philippine Manila Standard Publishing Inc. (Manila Standard), Officine Corporation, GE Aviation, SEDA Hotels, BDO Unibank, Smart Communications, Inc., People Asia Magazine, A+E Networks Asia (History), Allianz PNB Life, Phoenix Petroleum Philippines, Tanduay Brands, Rockwell Land Corporation, Petron Corporation, Splash Corporation, AB Heineken Philippines Inc., and Asia Brewery Inc. – Summit
Partial results:
SPORTSWRITER: Van City 120, Team Coral 116, Club 1872-Los Angeles 113, Veterans Team A 113, Bennett Valley 109, Forest Hills 109, Davao City 108, Sarangani 106, Lanang 104, Paoay 102, Rancho Palos 101, Guam Seals 100, Par 2000 100, Iligan 97, SF Maharlika 94, UP Tee Jots 94, Baguio Country Club 92, PGA British Columbia Team 1 89, Moffet Field Team 1 89, Taotaomona Guam 87, Fort Bonifacio Team 2 86, Bay City Golf 83, Pinoy Vancouver 73, Bay Area Golf Organization 59
FRIENDSHIP: Lumbia 94, Bacolod 93, Cotabato 89, Dirab 89, SFO East Bay 85, Fil Am New Jersey 84, Fort Bonifacio Team 1 78, Fil-Am Fairfield 77, Fil-Am SFO 75, Guam Compadres 74, EZ Par 74, South Bay 74, PGA British Columbia Team 2 73, Honolulu 73, Seattle 72, Moffet Field Team 2 71, E Yona 71, Philam Central Florida 69, Mt. Malindang 69, MSU Marawi Team B 67, Pittsburg FilAm 65, FilOz Sydney 64, Mabuhay Golf Club of SFO 65, Filcansa 54