The Philippine Sports Hall of Fame is forming a Review Committee comprised of select sports media practitioners to help them evaluate the nominations expected to come in for the fourth enshrinement set in November.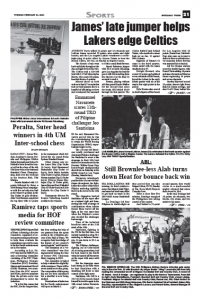 According to R.A. No. 8757 also known PSHOF Act, only a Screening Committee consisting of the PSC Chairman, Philippine Olympic Committee (POC) President, Games and Amusement Board (GAB) Chairman, two members from the POC accredited NSAs, and two members from the private sector was distinguished to select the inductees.
"It is for this reason that the PSC, for the longest time, has been seeking the help of our partners from the sports media in the evaluation process of the Hall of Fame. We recognize their knowledge of the history of our country's sports legends," said Ramirez.
The formation of a "review committee" was first implemented during the time of former PSC Chairman Harry Angping in 2010.
The committee is tasked to help evaluate the eligibility of the nominees. There will be seven members to this group. The composition of this group has not yet been announced but a shortlist is now being studied.
Nominations of inductees for the fourth enshrinement will open on March 1.