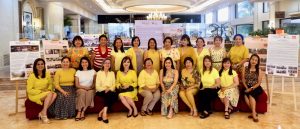 The Rotary Club of Downtown Davao (RCDD) decided to forego its usual lavish charter anniversary celebration for a low-key one this year in support of Davao City's precautionary measures to prevent the spread of the corona virus disease 2019 (COVID-19).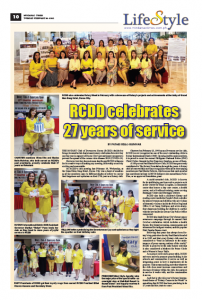 However, low-key does not mean less fun and RCDD is famous for its creative ways of making any meeting, fellowship or activity exciting and memorable.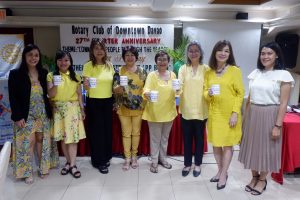 So RCDD's club meeting last February 19, Wednesday, at the Grand Men Seng Hotel, Davao City was a burst of sunshine as all the members came in different shades of yellow to convey their happiness and optimism on their 27th year as a Rotary club.
Chartered on February 23, 1993 as an all-women service club, RCDD is now recognized as one of the most outstanding clubs in Rotary International District 3860. Opening itself to male members, it is proud to count the current Philippine National Police (PNP) Chief, Police General Archie Francisco Gamboa, as one of them.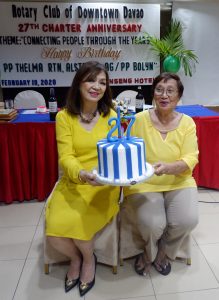 A 100 percent Paul Harris Fellow Club, RCDD has generously contributed to The Rotary Foundation through the years. A Rotary club is bestowed this one-time recognition when all its dues-paying members are Paul Harris Fellows, which means that each member has contributed at least 1,000 US dollars to the Annual Fund, PolioPlus, or an approved Foundation grant.
A multi-awarded club, RCDD is known for its trailblazing and innovative projects such as the Center for Hope in Agdao, a community center that houses a day care center, a health center, and a livelihood training center serving Barangay Centro and Barangay Duterte.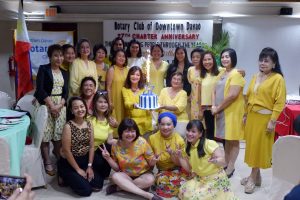 RCDD also built a children's library and reading center inside the People's Park; a shelter for abused women and children who are victims of domestic violence inside the Police Regional Office 11 at Camp Catitipan; and a two-storey, four-classroom building for children in conflict with the law inside the Davao City Police Office compound.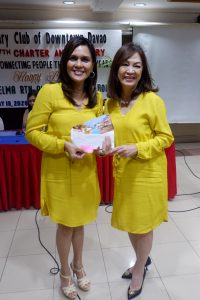 RCDD also leads Davao City's breast cancer awareness campaign through its annual Pink October celebration which includes a health forum; free breast screening, mammogram and ultrasound for indigent women; and the popular Pink Zumba fitness event.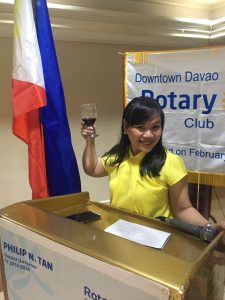 Believing that peace has always been Rotary's top goals since the day Paul Harris founded it in 1905 and that every Rotary club must be committed to "lend its influence to the maintenance of peace among nations of the world," RCDD is proud to be the only Rotary club that is also considered a Mothers for Peace Circle and a Women's Peace Table.
As a peace circle and a peace table, RCDD strives to actively promote peacebuilding in the schools and communities it serves as well as integrating peace in how it implements all its projects. That means making sure that whatever the club does must increase connections and decrease divisions within the club, the partners in service it works with, and the communities it serves.
And that is why this year's Rotary International theme of "Rotary Connects the World" is something that RCDD has been practising in its 27 years and the years to come.