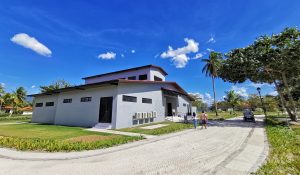 Back in the early 90s, we used to frequent Kopiat Island, an 87-hectare coconut plantation in Mabini at the former province of Compostela Valley (now Davao de Oro). Who would have thought that this island off Davao Gulf would transform into what is now a world-class resort under Thailand's Dusit Thani brand?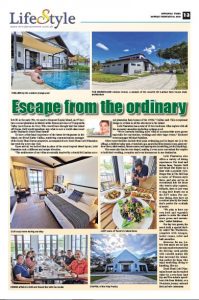 To have a first-hand experience of the latest developments in the island, our friend Kathy Calilao, marketing communications manager of the Dusit Thani Davao properties, accompanied us to Dusit Thani Lubi Plantation last week for a two-day visit.
Upon arrival, we noticed that in place of the usual tropical island layout, Lubi Plantation took a different and unique direction.
"The architecture of our villas are actually inspired by colonial Sri Lankan coconut plantation farm houses of the 1920s," Calilao said. This exceptional design is evident in all the structures in the island.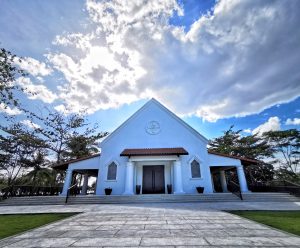 Lubi Plantation has a total of 18 two-bedroom villas replete with all the necessary amenities including a plunge pool.
"We're currently building more villas to accommodate more guests especially for conventions, weddings and other large events," disclosed resort manager Michael Salalima.
Other resort facilities include their main swimming pool (a larger one is in the offing), a children's play area, events hall, spa, sports facilities (tennis court, giant outdoor chess, table tennis), fitness center, and aqua sports (snorkeling, jet ski, kayaking).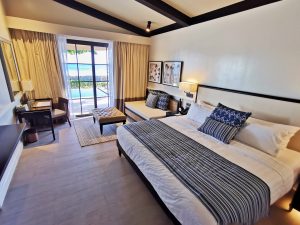 The resort also has its own chapel, making it even more convenient for couples to hold their wedding, reception and even honeymoon in one destination.
Lubi Plantation also offers a variety of dining experiences. For local and fusion fares, Tarictic Grill and Snack Bar dishes up a feast with a poolside view. Burger Bar at The Mill has a roster of Western-style fares, and also serves as recreational hub for those who want to play e-games, billiards, darts or just want to sing their hearts out at the KTV suites. For outdoor dining, they have set a cookout area by the beach that's perfect for cocktails at sunset.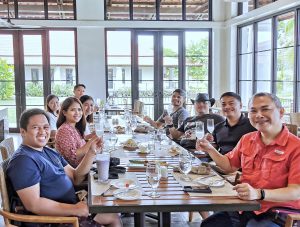 "We plan to have our own herb and vegetable garden to make the island more green and sustainable," added Salalima.
For day tour guests, the resort built a special facility called The Warehouse, complete with lounges, locker rooms, toilet and bath amenities.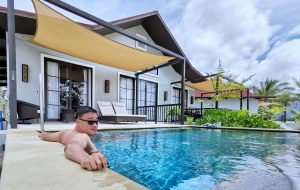 However, for me, Lubi's best assets are not just the man-made structures but the thriving coral garden with colorful marine life that surround the island. Just perfect for those who enjoy snorkeling, diving or kayaking, like me.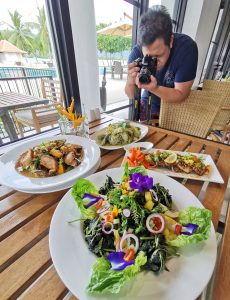 Dusit Thani Lubi Plantation Resort can be reached either by a two-hour land trip and five-minute speedboat ride from Mabini, or a 50-minute journey onboard their private catamaran.