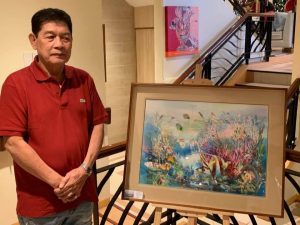 Businesswoman and art lover Amelia Lourdes "Amylou" Lizada-Aarts of Bistro Rosario, in cooperation with accomplished artiste and art connoisseur Armando Giron of GandA Art Gallery/Giron Botanic Culture and Arts Center, presented a visual art exhibition featuring the beautiful works of Master Watercolorist Raphael "Popoy" Arenillo Cusi at the Bistro Rosario last February 21 at 4:00 p.m. Amylou's dear art loving friends along with the friends of her mother, Charito Abella vda. de Lizada, came in full support as expected. Naturally, Davao Museum of History and Ethnography's Executive Director Sylvia Calma-Lorenzana and respected art collector Sylvia Jalandoni-Garcia were in attendance.
Raphael "Popoy" Arenillo Cusi is a visual artiste who specializes in watercolor. He is recognized as the "Master of Watercolor in the Philippines" and is acclaimed as one of the top artistes of the country. Born on October 26, 1950, in Bongabong, Oriental Mindoro, Popoy is the son of a painter named Lucas Cusi who encouraged his son to get into the field of the Visual Art when he was growing up in his bucolic hometown. At an early age, Popoy earned pocket money by painting murals, billboards and signs.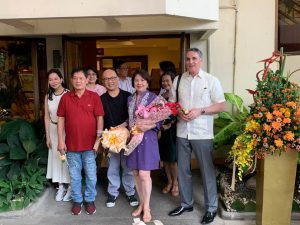 After finishing high school, Popoy pursued his Fine Arts studies at the Philippine Women's University in Manila. He had since dedicated himself to professional painting and was lucky enough to have received several grants and scholarships. Among his awards and distinctions include European Art for Environment Award; Who's Who in International Art; Most Outstanding Citizen of Mindoro; First Prize in a poster and logo competition in Detroit, Michigan, USA; Grand Prize and Gold Medalist in the Annual Painting Graphic, Sculpture Competition sponsored by the Art Association of the Philippines; to mention some.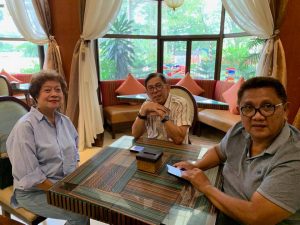 "Watercolor is one of the most difficult medium to handle. It is a hard medium to master. When you make a mistake while painting with watercolor, it is difficult to correct. It's fluid nature makes it difficult to control…. I clear my mind of all thoughts that could distract my attention and affect my work when I paint with watercolor," Popoy informed the guests before he gave them some pointers in watercolor painting.
"I love the subject on marine life as I grew up in Mindoro surrounded by water. I did dive deep into the sea when I was much younger. The experience inspired me in painting my underwater series which really reminds me a lot of my simple and carefree childhood and adolescence in my hometown," Popoy answered me when asked which of his paintings he loves the most.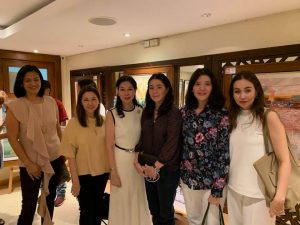 "As you can see in this art exhibition, my paintings are on nature, underwater scenery, landscapes, flowers, and the like. My artworks reflect my positive view as they are filled with soul and emotion that words could not just justify. My subjects are all a reflection of my positive view of life and a response to my surroundings. I like to share the truth to the world."
"I love Raphael A. Cusi's breathtaking artworks. They emit energies that speak to you in different levels. The brushstrokes on his charming artwork, 'I Love You, Mom,' which is a favorite of mine, evoke a certain calmness and passion," so revealed Amylou L. Aarts who still has some walls, perhaps, in her well-appointed home waiting for a Cusi painting or two to be mounted on them.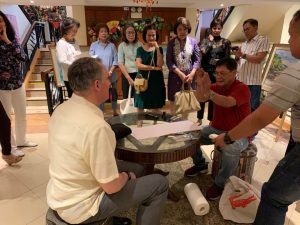 Raphael "Popoy" A. Cusi, like the other members of the Davao Watercolor Society headed by Davao's ace artist Lito Pepito who also came to attend the Cusi exhibit with veteran artist Josie Carriedo-Tionko, support the advocacy, promotion, and preservation of Philippine Arts and Culture.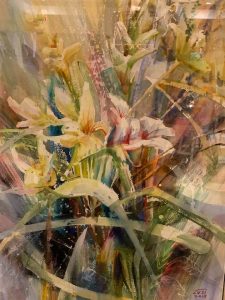 Thank you, Amylou Lizada-Aarts for observing the country's National Arts Month and inviting me to Raphael A. Cu
si's Vision 2020 art exhibition. Congratulations, Raphael A. Cusi. May your beautiful artworks inspire more people to look at our beloved country as positively as you do.