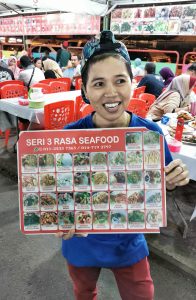 It doesn't take a genius to figure out why there's a Filipino market in the heart of Kota Kinabalu in Sabah, Malaysia. Sabah, located in the island of Borneo, is just 671 kilometers from Zamboanga City, the nearest urban center in Mindanao to the Malaysian state. In comparison, Zamboanga City is 1,330 kilometers away from Manila. In fact, Banggi Island, in Sabah's north, is less than 80 kilometers from the Philippines' southern Balabac Island.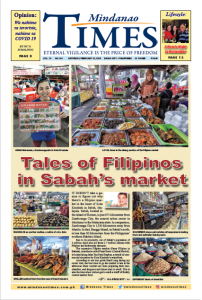 Due to its proximity, out of Sabah's population of 3 million, there also are about 1.7 million citizens with Filipino and Indonesian descents.
The expansive Filipino market (Pasar Filipino in Bahasa), sometimes called Pasar Besar (Central Market), is located along Jalan Tun Fuad Stephen, a stretch of commercial structures by Kota Kinabalu's waterfront.
According to our tour guide Basil Lung during my recent visit, the best time to go the market is late in the afternoon when vendors are done preparing their merchandise, and shoppers and diners start to swell. This is also the time when visitors get to catch a whiff of freshly cooked market food.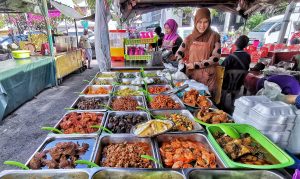 So, at sundown that same day, I again scoured for interesting finds from the possibly hundreds of mini-stores and food stalls along the market's narrow, often muddied lanes. The Filipino market is actually reminiscent of our own public markets – frenzied, colorful and sometimes grimy while retaining an old world charm.
Inside, they have sections that sell varieties of salted fish, fresh fruits and produce, handicrafts, fresh seafood, and food stalls.
"Try our seafood, 'kuya' (big brother), they're 'mura' (cheap)," said 37 year old Aisha Mohamad, who easily figured out that I am Filipino.
She is one of the many Filipino vendors, mostly belonging to second and third generations, whose parents and grandparents have settled in Sabah 30 to 40 years ago.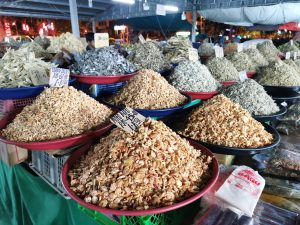 Aisha has not visited her hometown in Sta. Barbara, Zamboanga City for more than 20 years now. "Life is much better here. My siblings have settled here also since 1986," she shared.
I told her that life in Zamboanga has drastically changed for the better in the last couple of years with more opportunities available. She seemed not convinced.
Few stalls away, I met Baisam Aliman, who was born on 1990 in Sandakan, 332 kilometers away from Kota Kinabalu. Baisam's parents are from Jolo, Sulu, which is a boat-ride away from Sandakan.
"I can still speak a bit of Tausug and Tagalog, and practice few Filipino traditions only because we have Filipino family friends here who also speak the language," the daughter of Tausug traders explained.
But aside from the language, there seems nothing more that connects her to her parents' motherland.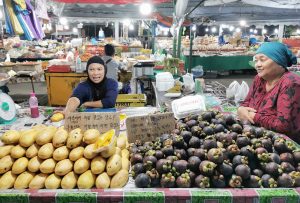 "I was born as Sabahan, and I haven't been to the Philippines, so there's just no reason for me to go there anytime soon. Maybe someday," she explained.
After quenching my thirst with iced coconut juice and sampled a slice of rice cake that resembled our own "bibingka," I proceeded to the souvenir section where handcrafts, batik fabrics, beaded accessories, and varieties of freshwater and seawater Sabah pearls are sold at bargain prices.
It was also there where I met Nul Maulana, who also has an interesting story to tell.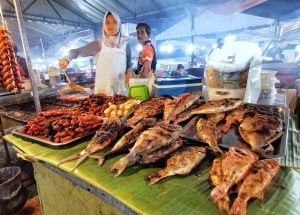 "An illegal recruiter actually took us here through the backdoor sometime in the mid 90s," she said, referring to Bakungan Island, which is part of the municipality of Turtle Islands in Tawi Tawi.
She used to hide inside boxes or cover herself with a potato sack whenever police would do surprise checks in the market. Nul later married a local and has since legitimized her citizenship.
"But my real name was actually Janet Agan, I was a Christian before I met my husband. I wanted to visit my relatives in Basilan but I'm not so sure how to go about it," she said.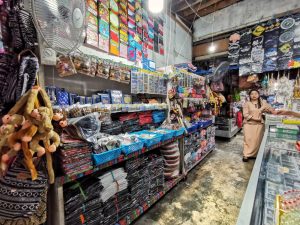 Her worry is that she would be taken away from her family if she decides to visit home. I told her to seek the advice of the Philippine consulate. She was still hesitant to do so. She is just thankful that technology, through Facebook, has reconnected her with her family whom she hasn't seen in decades.
And there is one lucky guy named Val Otong, a worker in the seafood market. Val was born in Kota Kinabalu 24 years ago but his parents are both Zamboangeños.
"I frequent Zamboanga to visit my grandparents, since they're already very old, via Sandakan by boat. I don't see any difference being in Mindanao or in Sabah. I think, we're all just one and the same," said Val.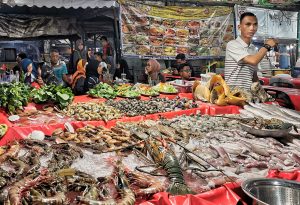 There are many more Malaysian-Filipinos all smiling, welcoming and ready to serve visitors inside the market, with similar stories as Aisha, Basiam, Nul, and Val. The lure of the Filipino market maybe its unique products pitched by these new generation of Filipinos. But no doubt, it is their stories of home – or their disconnect from it – and their familiar cheerful demeanor that form the soul of this market.