Manila Southwoods guns for a repeat win in the Founders division of the 34th Philippine Airlines Seniors Interclub golf team championships set Feb. 26-29 in Bacolod City.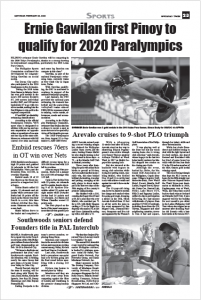 "We hope to duplicate our performance last year," said Southwoods captain Freddie Mendoza who is fielding nearly the same lineup that gave them a 12-point victory over Valley in Cebu City.
Theody Pascual, who led the team in scoring, will be back along with Thirdy Escano, Ryan Abdon, Alexander Ignacio, Jose Roy III, Danny Samaniego and John Bayani Fontanilla III.
Rading Decipeda is the team's newest member, replacing Bong Sison.
Mendoza said competition in the second-tier division is keen and expects an exciting contest among Valley, Riviera and host Negros Occidental.
Last year, Southwoods held a precarious one-point lead over Riviera going into the final round before sparkling with a closing 143 points.
Riviera was beaten to second place by Valley.
Mendoza said they are still two years away from competing against the likes of Luisita and Canlubang in the premier championship division.
"By that time Junjun (Plana) and Vince (Lauron) would be available," he said.
The annual PAL Interclub event, hosted by national flag carrier Philippine Airlines, is backed by platinum sponsors Asian Air Safari, Vanguard Radio Network, Fox Networks Group, and Radio Mindanao Network, Inc.
Major sponsors include The Boeing Company, University of Mindanao Broadcasting Network, Avolon Aerospace Singapore Pte Ltd, Rolls Royce, Manila Broadcasting Company, Primax Broadcasting, Rolls-Royce Singapore Pte Ltd, and CIGNAL TV Inc.
Other supporters are Uniglobe Travelware Co., Inc. (The Travel Club), Philippine Manila Standard Publishing Inc. (Manila Standard), Officine Corporation, GE Aviation, SEDA Hotels, BDO Unibank, Smart Communications, Inc., People Asia Magazine, A+E Networks Asia (History), and Allianz PNB Life.