Davao City – Team Rancho Palos Verdes yesterday bared its roster for the coming 73rd Philippine Airlines Interclub golf tournament which reels off on February 26 to March 7 in Bacolod City.
Its Seniors team which will see action on February 26 to 29 will compose Randy Cadiongan as captain along with Noe Taojo, Abe Dizon, Josue Tesado, Lito Dublan, Eugenio "Jun" Serado, Deo Cura and Johan Dalmacio.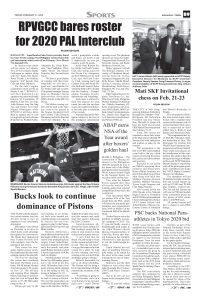 For the men's regular competition which will be on March 4 and 7, RPVGCC-1 will have Roderick Lo as captain to be joined by Ronald Galicia, EJ Casintahan, JP Marfori, Chris Tan, Leo Yap, Addy Briones, Jong Tan, Jing Tan and former Governor Miguel Dominguez while RPVGCC-2 will have Jerico Bajo as captain and its cast having Ludwig Van Ledesma, Brian Davila, Wendell Adlao, Alejandro So, Oscar Rebosura, Vince Valdellon, Christopher "Boyet" Tan, Simeon Gonzales, Boy Tan and Jessie Tan Jr.
"We have a good chance of winning with this roster. Hopefully we will have a good run," said Rancho Palos Verdes Golf and Country Club general manager Tommy Inigo on Thursday's Davao Sportswriters Association (DSA) Forum at the SM City Davao.
The Molave scoring system will be used in the four-day event to be played at the Negros Occidental Golf and Country Club (formerly Marapara) and at the Bacolod Golf Club (Binitin). Par is worth 3 pointswhile a birdie and bogey are worth 4 and 2, respectively. An even par round is worth 54 points.
Aside from Rancho Palos Verdes Golf and Country Club, also seeing action for the Davao City delegation are the FTB-Davao City Golf Club, Apo Golf and Country Club, Lanang Golf and Country Club and South Pacific Golf and Country Club in which the field will be divided into five brackets –
Championship, Founders, Aviator, Sportswriter and Friendship.
Each team is allowed to field four players for each round, but only the top three scores are counted. Each player can only play a maximum of two rounds.
National flag carrier Philippine Airlines is the host of this prestigious international sporting event. The platinum sponsors are Asian Air Safari, Vanguard Radio Network, Fox Networks Group, and Radio Mindanao Network, Inc.
Major sponsors include The Boeing Company, University of Mindanao Broadcasting Network, Avolon Aerospace Singapore Pte Ltd, Rolls Royce, Manila Broadcasting Company, Primax Broadcasting, Rolls-Royce Singapore Pte Ltd, and CIGNAL TV Inc.
Other supporters are Uniglobe Travelware Co., Inc. (The Travel Club), Philippine Manila Standard Publishing Inc. (Manila Standard), Officine Corporation, GE Aviation, SEDA Hotels, BDO Unibank, Smart Communications, Inc., People Asia Magazine, A+E Networks Asia (History), and Allianz PNB Life.