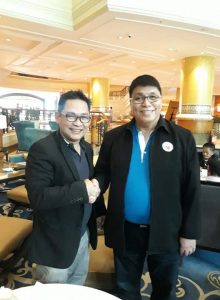 The City of Mati Sangguniang Kabataan Federation through Hon. Matthew "Mat" Batingana, SK Federation President and City Mayor Hon. Michelle N. Rabat will host the 2020 Invitational FIDE Rated Chess tournament this February 21-23.
Some 200 entries are expected to show their wares at the Mati, Davao Oriental SP Session Hall with cash prizes and trophies at stake for the winners.
The tournament is the first-ever FIDE rated standard event held in the city which expects promising local kiddies, juniors and chess arbiters seeing action.
Expected to see action are ASEAN age-group silver medalist and Immaculate Heart of Mary Academy student Cyhrea Ruth Atog of host Mati along with local bets Matthew Payumo, Henson Sanchez, Matthew Salomon, Xynna Leigh Origenes and Clint Nikko Morales.
Also seeing action are 2020 Chooks to Go National Rapid Executive Champion and 2019 Pattaya International Chess Challenger Best Senior IA/FT James Infiesto and Alfred Moulic of Davao City, Ernesto Canete of Pantukan and Darwin Bermudez of Panabo.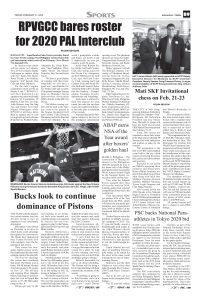 The tournament follows the nine-round single robin format with a standard time control of 60 minutes with 30 second increment from move one as supervised by chief arbiter Jose L. Barba Jr. and deputy chief Nemesion Ordiz.
"We congratulate the City of Mati SK Federation under the leadership of Hon. Mat Batingana for hosting this World Chess Federation sanctioned event in Davao Oriental. Their youth chess players are the beneficiaries of this competition. My salute to them for taking center stage in Mindanao this week. NCFP Chairman, Deputy Speaker Cong Pichay wish all the participants goodluck," said Infiesto who is also the NCFP Deputy Executive Director for Mindanao.
The champion will get P5,000 and a trophy while the first and second runners-up will get P3,000 and P2,000 plus trophies, respectively. The 3rd and 4th runners-up will receive P500 and medals while consolation prizes are five pieces of DGT starter chess worth P800 each.
All unrated entries will have a chance to earn FIDE ratings.