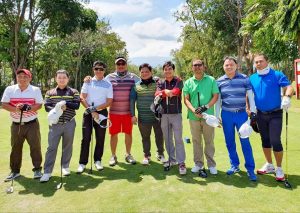 Davao City – The Fore The Boys-Davao City Golf Club bared its roster in preparation for the 73rd Philippine Airlines Interclub Men's Regular Championship set on March 4 to 7 in Bacolod City.
Fore The Boys-Davao City Golf Club President Ernest Damaso will head the cast to be joined by team captain Atty. Juan Carlos Angeles, Gil Bullecer, Andrew Bautista, Pittjun Batu, Atty. Jong Agton, Romeo Boyet Sonico, Marko Fuentes, Christian Gabucan and past president Reinz Yamyamin.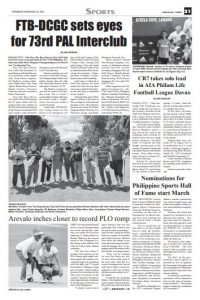 Fore The Boys-Davao City Golf Club will be among the 97 teams which will see action in this year's edition of the PAL Interclub to be played at the Negros Occidental Golf and Country Club (formerly Marapara) and at the Bacolod Golf Club (Binitin).
Damaso and the rest will see action in the Men's Regular Championships which will follow shortly after the 34th PAL Interclub Seniors which take place February 26-29
The Molave scoring system will be used in the four-day event. Par is worth 3 pointswhile a birdie and bogey are worth 4 and 2, respectively. An even par round is worth 54 points.
Aside from FTB-DCGC also seeing action for the Davao City delegation are Apo Golf and Country Club, Rancho Palos Verdes Golf and Country Club, Lanang Golf and Country Club and South Pacific Golf and Country Club in which the field will be divided into five brackets – Championship, Founders, Aviator, Sportswriter and Friendship.
Each team is allowed to field four players for each round, but only the top three scores are counted. Each player can only play a maximum of two rounds.
National flag carrier Philippine Airlines is the host of this prestigious international sporting event. The platinum sponsors are Asian Air Safari, Vanguard Radio Network, Fox Networks Group, and Radio Mindanao Network, Inc.
Major sponsors include The Boeing Company, University of Mindanao Broadcasting Network, Avolon Aerospace Singapore Pte Ltd, Rolls Royce, Manila Broadcasting Company, Primax Broadcasting, Rolls-Royce Singapore Pte Ltd, and CIGNAL TV Inc.
Other supporters are Uniglobe Travelware Co., Inc. (The Travel Club), Philippine Manila Standard Publishing Inc. (Manila Standard), Officine Corporation, GE Aviation, SEDA Hotels, BDO Unibank, Smart Communications, Inc., People Asia Magazine, A+E Networks Asia (History), and Allianz PNB Life.