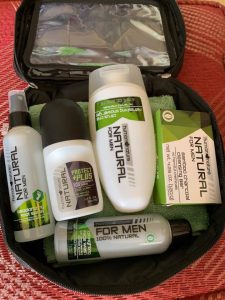 You have taken your bath, brushed your teeth, dressed up and left home for work for the whole day. And then it dawns on you that you forgot to put on deodorant, a staple in many Filipinos' hygiene routines. The sweltering heat in a tropical country like the Philippines can readily make one perspire copiously. Men, generally speaking, sweat more than women. "That's why you need heavy-hitting and hardworking products to help you stay cool, clean and protected while keeping up with the daily grind," so advises the bright and pretty Monique T. Villanueva, the branch operator and branch manager of GreenKreations, Inc.-Human Nature Davao.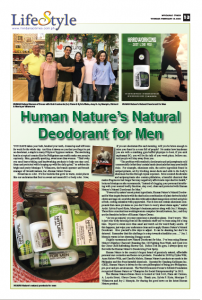 Sweat has no odor. It's the bacteria that grow in warm, moist places like our underarms that feed on sweat and causes BO or body odor. Now, if you are deodorant-free and sweating, will you be brave enough to raise your hand in a room full of people? No matter how handsome you are with a matching gym buffed physique to boot, if you emit unpleasant BO, you will be the talk of your work place, believe me. And people will stay away from you.
"The problem with synthetic deodorants and antiperspirants sold commercially is that they contain harsh chemicals that may pose health risks. For example, aluminum salts, the active ingredient found in antiperspirants, act by blocking sweat ducts and adds to the body's aluminum burden through repeat exposure. Most scented deodorants and antiperspirants also contain phthalates, a harmful chemical that makes fragrances last longer but may negatively affect male reproductive health," lectures Monique as she recommends, "Instead of clogging your pores and interfering with your normal bodily function, stay cool, clean and protected with Human Nature's Natural Deodorant for Men."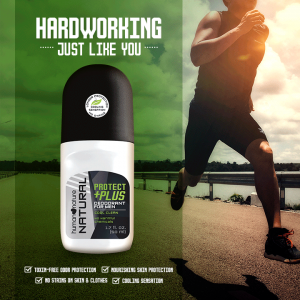 "Powered by nature's most potent ingredients, Human Nature's Natural Deodorant for Men targets bacteria with the dual-action combination of plant-derived triethyl citrate and sage oil, nourishes the skin with antioxidant mangosteen extract and gives a fresh, cooling sensation with peppermint. Plus it does not contain aluminum compounds that cause pit stains so you don't have to worry about stains again," added Archt. Sylvia Puyod-Rieta, Monique's business partner along with Joy J. Mempin. These three conscientious workingwomen comprise GreenKreations, Inc.; and they are the franchise holders of Human Nature-Davao.
"As you go natural, you may experience a transition phase. Don't worry. This is just your body detoxing from all the synthetic stuff you've been using for a long time. Expect to sweat more than usual and watch out for weird funky smells. If this happens, just wipe your underarms clean and re-apply Human Nature's Natural Deodorant. Give yourself a few days to adjust. It can be daunting but don't be deterred. Remember that this challenge is a step towards a healthier you…," Joy J. Mempin warns in her charming Ilonggo accent.
I highly recommend new Natural Deodorant for Men. I've been using Human Nature's Bamboo Charcoal Cleansing Bar, Oil Fighting Face Wash, and I just love the Citrus Chill Refreshing Shower Gel. Before I hit the gym, I always spray my feet with the Human Nature's Deodorizing Foot Spray.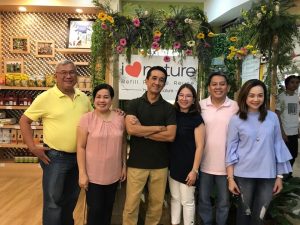 Human Nature is the country's largest brand of genuinely natural, affordable personal care cosmetics and home care products. Founded in 2008 by Dylan Wilk, Anna Meloto-Wilk, and Camille Meloto, Human Nature's products are made in the Philippine and free from harmful chemicals. Operated by Gandang Kalikasan Inc. (GKI), Human Nature is driven by the core philosophies of being pro-Philippines, pro-poor and pro-environment. The World Economic Forum's Schwab Foundation recognized Human Nature as "Champion for Social Entrepreneurship" in 2012.
The Human Nature-Davao Store is located at Unit 9-10, Plaza del Carmen, A. Loyola Street, Obrero Davao City. Thank you, Sylvia P. Rieta, Monique T. Villanueva and Joy J. Mempin, for sharing the good news on the latest Human Nature product.