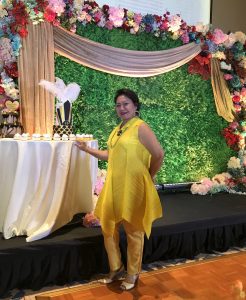 Disregarding the belief that number 9 is unlucky, Eveleyn Afdal went ahead to celebrate her 69th birthday in advance on Feb. 11, 2020 at the ballroom of the new Acacia Hotel in Lanang, Davao City.
Her birthday actually falls on Feb. 20, but because she is attending a wedding in Camiguin and plans to fly out to Dubai afterwards, she treated her friends to a party and an evening of line dancing. Even her close friends from the religious danced with her to celebrate their friendship.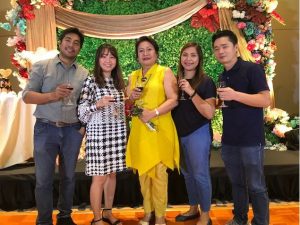 Eve saw to it that her family's island resort in Samal–SECDEA, has a chapel where masses are said, especially on feast days of her favorite saints. She personally does the landscaping of the Samal Island Resort and tends to her plants she loves to care for.
Evelyn was born in Polangui, Albay, of Bicolano parents: Andres and Clarita. She has three brothers and four sisters and is a nurse by profession. She is a retired colonel and served as a military nurse in Mindanao. She is married to Col. Sammy Afdal. They have three children, Christine, married to Isidro; Danny married to Kim and Eden (Che Che) married to Aloy Zhang. They have three grand children – Baby Daniel, Clarence Andrei, and Madeleine.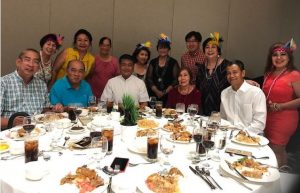 Doctor Aurora Chio, Evelyn's best friend prepared an entertainment show with the participation of the Ladislawa residents who call themselves "Forever Young" and came to the party in Gatsby attire.
Lilli Arellano choreographs the dance numbers for the group whose members love to dance for hours non-stop. Featured singer for the evening was Annabelle De Leon with her husband, Ret. Gen. Beniro De Leon. Annabelle belts out songs ala Shirley Bassey and sang "Cabaret" for the dance presentation of the Ladislawa Garden Village residents.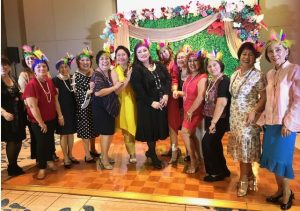 The family received a blessing from Monsignor Paul Cuison of the Parish Church of Saint Francis of Assisi, Fr. Randy Vergara and Fr. Otek.
Photo Credits: Aurora Chio