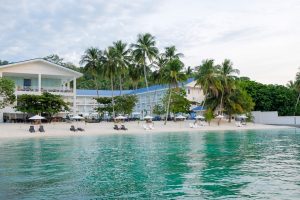 It has rather been a long while since I last set foot on the white sandy beaches of the Garden City of Samal. When Jessica Angela Segura, the ever smiling Sales and Marketing Manager of Club Samal Resort, sent me a message inviting me for an overnight stay at the "lovely boutique resort nestled at the heart of the Island Garden City of Samal" last February 10, 2020, I readily accepted without the least hesitation even if it was going to be on a busy Monday for me. I have been hearing about Eddie Bangayan's Club Samal Resort's drawing quite a number of enthusiastic individuals, both locals and aliens, who seek a relaxed time in an environment that is in harmony with nature plus provided with what Jessica describes as "great amenities and top notch services with an amazing beach front plus a wide pool."
Yes, the resort was established primarily for the sole purpose of helping people regain their good health, well-being, enjoyment and happiness in a tranquil and lush landscaped setting. This paradise of a resort is a convenient five-minute motorboat ride from the Garden by the Bay Resort and Recreation located along Maryknoll Drive, Lanang, Davao City. Garden by the Bay is presently being operated by the Ritz Hotel Garden Oases.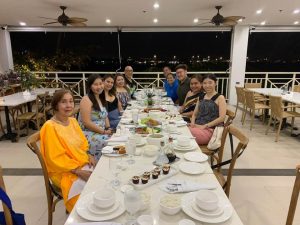 The short motorboat ride had the La Salle Business School graduate Christine Bangayan joining us. It was a rather humid afternoon by the time we got to the striking blue and white colored Club Samal boutique resort hotel with its surrounding seas beholding serenity and splendor. According to Christine, the blue color was chosen precisely to match the sky and the crystal-clear blue water of the sea. Christine and Jessica lost no time in giving the media guests (Marilyn Roque and I represented Mindanao Times) and bloggers our assigned suite rooms by the pool where we hurriedly freshened up for a guided tour of Club Samal's guest rooms and suites, pool side, beach bar, restaurant and a well designed lobby with high ceiling and hard wood furniture that exudes a welcoming and relaxing vibe especially with its great view of the huge pool, white sand beach front and the big blue sea. Oh yes, Marilyn Roque didn't lose time posing for pictures as soon as she changed into a shocking yellow colored caftan embellished with embroideries. Envying her ala Elvira projection, I just had to join her photo shoot as well.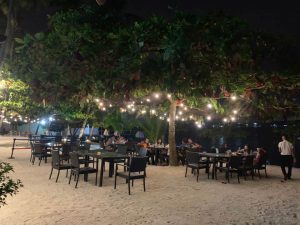 By late afternoon, it was such a delight that it became cooler and windy enough to make the Talisay trees rustle. A corporate group could be seen enjoying and dining under the Talisay trees festooned with hanging lights by the beach. As we waited comfortably for dinner to be served at the airy second floor restaurant with no name, Jessica talked about Club Samal's "Seaside Serenade" for its Valentine's Day Promo.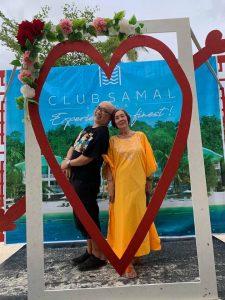 The romantic dinner by the beach scheduled on Valentine's Day features a live band for entertainment. Naturally, the ladies will get a long-stemmed rose plus a complimentary glass of wine or fruit juice of one's choice. That Feb. 10 night, we enjoyed a taste of some of Club Samal's culinary delights specially planned and concocted for Valentine's Day by no less than chef Annie Cacho-Garcia who serves as F&B consultant of Club Samal.
Hungry that we were, we feasted on asparagus soup with celery and white onion; pan-seared tuna with soy and pinakurat vinegar dip; blackened salmon with Cajun seasoning and smoked paprika; porchetta or roast pork belly stuffed with fruits and spices; and ended our dinner with desserts of red velvet cupcakes and baked cheesecake with strawberry topping for sweets lover like me. The Valentine's Day dinner preview was truly delicious.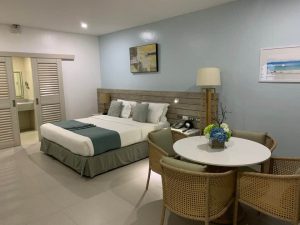 Honestly, the suite room I occupied was quite relaxing. Club Samal's suite by the pool is spacious, clean and painted as it is in calming pastel shades. I had a goodnight sleep which revitalized me for the following day's activity. My calorie-loaded breakfast consisted of chicken and mushroom fried rice, egg omelette, bistek Tagalog, crispy bacon, and chicken tocino. As I was having breakfast by my lonesome, I entertained myself by listening to diners seated near me speaking in Chavacano. After breakfast, with Jessica for a guide, we headed straight to the market to buy some of Samal's fruits like mango and avocado to bring back home as pasalubong. Passing by a nondescript shop, I was so surprised to see some Japanese Haniwa terra cotta figurines. Naturally, I bought them to add to my collection.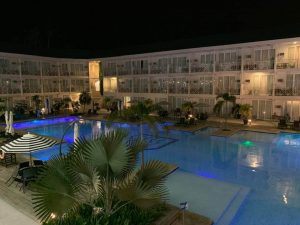 We were scheduled for an 11:00 a.m. boat ride back to the Garden by the Bay. It was quite windy and Marilyn Roque didn't enjoy the bumpy and splashy ride experience at all. Former ramp model Mardoni Luy, the manager of Garden by the Bay, was on hand to welcome us and just as quickly bid us goodbye as we hurriedly rode the Club Samal van and went on our way.
Thank you, Christine Bangayan and Jessica Segura, for the warm and gracious pampering and the Club Samal hospitality. And yes, Dotty Bangayan-Lee, I truly enjoyed my first ever Club Samal escapade. As one enters the confines of Club Samal, you leave the stress and fears of transmission of the new coronavirus disease, the termination of the Visiting Forces Agreement by Pres. Rodrigo Roa Duterte, the DOH order of "Be less romantic on Valentine's Day," among many other problems.