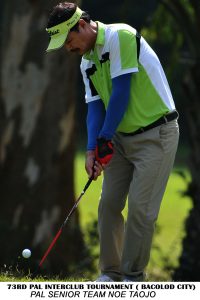 Ninety-seven (97) teams have signed up for the 34th Philippine Airlines (PAL) Seniors Interclub golf team championships set Feb. 26-29 in Bacolod City.
The field includes 45 clubs based in the United States, Canada, the Middle East, Australia and New Zealand.
Defending champion Luisita is gunning for its first back-to-back title since completing a six-peat in 2005.
Save for Edmund Yee, Luisita is fielding the same team that posted a three-point win over Canlubang at last year's PAL Interclub in Cebu City.
Taking Yee's place is returning member Jingy Tuason who played for the team two years ago.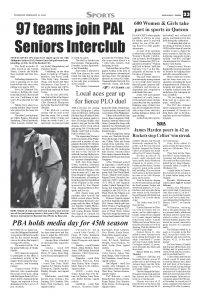 The other Luisita players are Eddie Bagtas, Benjamin Sumulong, Chino Raymundo, Chito Laureta, Rafael Garcia, Rodel Mangulabnan and Demetrio Saclot.
Canlubang, on the other hand, is made up of Tommy Manotoc, Abe Rosal, Zaldy Villa, Rolly Viray, Damasus Wong, Abe Avena and Mari Hechanova. Pem Rosal is not in the lineup and will be most likely replaced by Rene Unson.
Play for the 2020 PAL Interclub will be at the Negros Occidental Golf and Country Club (formerly Marapara) and at the Bacolod Golf Club (Binitin).
The Molave scoring system will be used in the four-day event. Par is worth 3 points while a birdie and bogey are worth 4 and 2, respectively. An even par round is worth 54 points.
The field is divided into five brackets: Championship, Founders, Aviator, Sportswriter and Friendship.
Each team is allowed to field four players for each round, but only the top three scores are counted. Each player can only play a maximum of two rounds.
The Seniors tournament precedes the 73rd Men's Regular event slated March 4 to 7 with Cebu Country Club defending its title.
National flag carrier Philippine Airlines is the host of this prestigious international sporting event. The platinum sponsors are Asian Air Safari, Vanguard Radio Network, Fox Networks Group, and Radio Mindanao Network, Inc.
Major sponsors include The Boeing Company, University of Mindanao Broadcasting Network, Avolon Aerospace Singapore Pte Ltd, Rolls Royce, Manila Broadcasting Company, Primax Broadcasting, Rolls-Royce Singapore Pte Ltd, and CIGNAL TV Inc.
Other supporters are Uniglobe Travelware Co., Inc. (The Travel Club), Philippine Manila Standard Publishing Inc. (Manila Standard), Officine Corporation, GE Aviation, SEDA Hotels, BDO Unibank, Smart Communications, Inc., People Asia Magazine, A+E Networks Asia (History), and Allianz PNB Life.