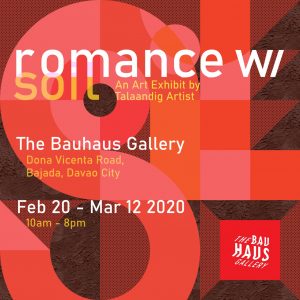 The Bauhaus at Dona Vicenta Village in Bajada, Davao City will launch its art gallery with "Romance with Soil", an exhibit of soil paintings by the Talaandig tribe group of artists led by music and visual artist Waway Linsahay Saway from Bukidnon Province on February 20 to March 12, 2020.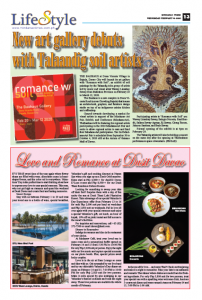 The Bauhaus is a new complex in Dona Vicenta Road (across Chowking Bajada) that houses an architectural, graphics, and furniture design studio on top of an indigenous cuisine kitchen and coffeeshop.
Geared towards developing a market for visual artists in support of the Mindanao Art Fair, Exhibit, and Conference (MindanaoArt), The Bauhaus will be featuring the regional artists participating in the 2020 MindanaoArt Fair and seeks to allow regional artists to earn and fund their MindanaoArt participation. The 2nd MindanaoArt Fair is scheduled from September 30 to October 4, 2020 still at the Atrium of Gaisano Mall of Davao.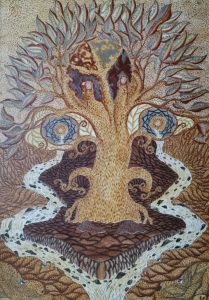 Participating artists in "Romance with Soil" are: Waway Linsahay Saway, Balugto Necosia, Raul Bendit, Salima Saway-Agraan, Rj Saway, Chong Tecson, Johnrey Santisas, and Bads Saway.
Formal opening of the exhibit is at 4pm on February 20. The Talaandig artists will also be holding a concert on the same day after the opening at The Bauhaus performance space downstairs. (PR/SAE)