Ginebra coach Tim Cone maintained his plan to sit down and discuss things with Greg Slaughter even as he clarified that he's not in the dark regarding his player's desire to take a sabbatical.
"Contrary to some reports, I did know Greg was contemplating taking a break from basketball," said the multi-titled GSM mentor.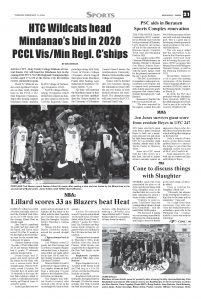 "We discussed it during our exit meeting immediately following the championship, and I hope to discuss it further in the next couple of days," he added.
Cone is bracing for Slaughter's likely exit.
"Obviously, his absence in the All-Filipino would be a big blow to the team and his teammates," Cone said.
On a high from their Governors Cup title run, Cone had looked forward to extending a great ride to the Philippine Cup – a tournament he's yet to win with the Gin Kings.
Minus June Mar Fajardo at San Miguel Beer, Ginebra was tipped to be the team to watch in the tourney that is to fire off on March 1 at the Smart Araneta Coliseum.
But then came Slaughter's announcement that was a big shock to the Ginebra diehard
Though deemed as soft by critics, Slaughter is Slaughter. Last season, the Fil-Am behemoth was good for averages of 9.6 points, 6.4 rebounds, 1.0 assist and 0.9 block.
He's the team's No. 4 best scorer after Stanley Pringle (10.0), Japeth Aguilar (14.6) and LA Tenorio (11.8).
Aguilar is also bracing for a tough grind minus his frontline partner.
"(Things) will never be the same," he said on his Twitter account.