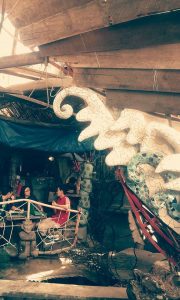 Kabunyan 'Kabu' De Guia, 37, who hails from Baguio, finds mosaic as an art and play taken together. He discovered mosaic just after he dropped out of the University of the Philippines-Baguio where he was studying Fine Arts.
His father Kidlat Tahimik was doing the art center Vocas-Victor Oteyza Community Art Space in Baguio.
"That time, my father assigned me to mosaic the toilets to work with the plumber. He told me to mix my creativity with the plumber's tile-laying skills," confesses Kabu. "So I learned third-world style how to mosaic, with trapo (used rug) and old slippers to grout."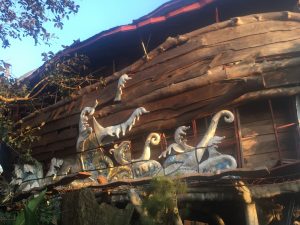 Kabu professes that he chose mosaic in the same way that he found it – by chance. "Tatay (Kidlat Tahimik) was inspired by two crazy architects Hundertwasser in Austria and Gaudi in Barcelona, He showed me pictures of the works of both artists and of the plumber's, then he said to me 'Let your imagination go crazy.' Also, I found mosaic to be an interesting material and not many people are doing it," Kabu confesses. "I am also an artist who can't draw. To save my life (laughs). When it comes to drawing, banned ako. But with tiles, junk, and wood., I found my medium."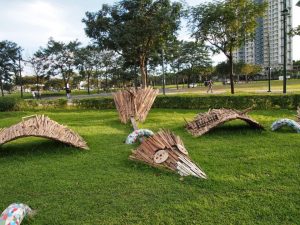 Together with his group The Mighty Bhutens, Kabu participates annually at Art in the Park at Salcedo Park in Makati. "This is where we came up with portable mosaics mounted on plywood, like paintings for people who want a mosaic but don't have a permanent house or wall they can have mosaiced," shares Kabu. "Otherwise, we mosaic in different houses or restaurants commissioned by people we meet."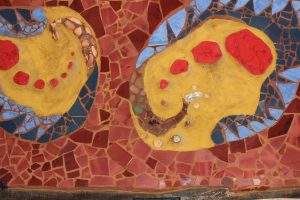 The two biggest works in size of The Mighty Bhutens can be found in Bonifacio Global City (BGC) in Taguig, commissioned by Bonifacio High Street and Ili-Likha in Baguio. "The one in Ili-Likha is our group's first 3D sculptural mosaics ala Japanese tsunami waves crashing against our local Balangahay. It's the Cinematheque in Baguio," Kabu quips.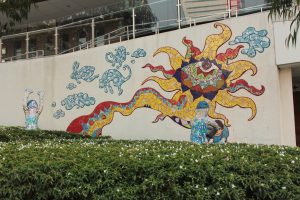 Kabu's motivation for his personal works is usually inspired by the drawings, stories, and, imagination of his two sons, Kalipay and Binnulan. "Like the show I did in Abreeza, making 3D mosaic sculptures from my children's drawing," he says. "One more thing that inspires me is people-watching or the small interesting corners in the streets full of life. I love the drawings or vandals by kids or murals of barangays where there is no formal art training, just a strong energy to paint and create. That, for me, is real art."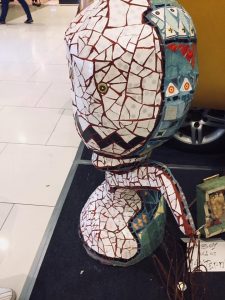 When this mosaic artist is asked about how he perceives the process of his art, Kabu shares, "My motto in life is 'Basta't laro lang palagi (Play always).' That's what you'll find on my online portfolio and Instagram profile, Biak Dugtong Mosaic Laro – because play is basically it. The moment you lose your childlike instincts to play or imagine and try to be like a serious master, I think makukulangan na ang work mo (something missing will be in your work).
The most challenging aspect that Kabu finds with mosaic is its physical presence. This challenge has become more significant now that he had moved to Davao together with his family. "Mabigat siya (It's heavy). Especially now that I have to transport it from Davao to Makati. It's always a call to be creative to work with tiles and limited color supply. The good thing, though, is that I don't need to sign my works. Kasi may DNA signature lahat ng works (laughs) cuts and wounds are a natural part of the process."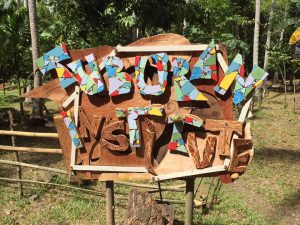 "Basta't laro lang palagi sa buhay, sabi nga ni Lolo Picasso (Play always in life. Lolo Picasso once said), 'Every child is an artist, the problem is how to stay that way when we grow up.'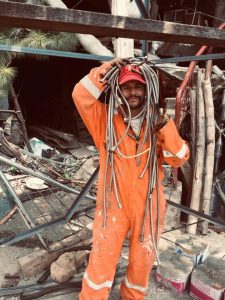 Walang magaling, walang hindi magaling. Just because you can copy a picture of someone and make it look exactly the same doesn't mean you're a better artist. Real art comes from your sariling dwende. Sabi ni Lolo Kidlat Tahimik, 'make defect into effect,'" Kabu truthfully blurts these words when asked what best thought can he share to those who have strong a desire to work with art.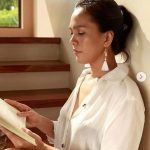 Joan Mae Soco-Bantayan is a teacher at Tuburan Institute, Inc. She is also a wife and a mother of two. For questions and comments, feel free to drop her an e-mail at joanmae1212@protonmail.com or visit her Facebook page, Joan Mae Soco.