Davao City – Holy Trinity College Wildcats of General Santos City will head the Mindanao bets in the coming 2020 PCCL Vis/Min Regional Championships set this April 17 to 20 at the Davao City Recreation Center (Almendras gym).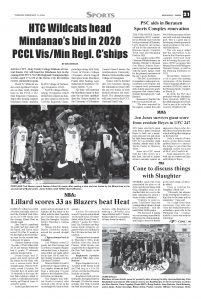 The HTC Wildcats under coach Apolinar Torrijos are on their ninth straight time in the PCCL's Vis/Min Regional Championships after beating surprise Mindanao finals qualifier MATS College of Technology Navigators, 85-82.
MATS College of Technology Navigators which settled first runner-up honors also earned a slot to the Vis/Min Regional Championships along with Holy Cross of Davao College Crusaders which bagged third place in the Mindanao Finals after beating Agro Industrial Foundation Colleges Sailors, 71-64.
All three will represent the Mindanao region as they play the top three qualifiers from the Visayas headed by the University of Mindanao Visayas Green Lancers, the Southwestern University Phinma Cobras and the Asian College of Dumaguete.
Teams will be divided into two brackets during the elimination round with the top two teams of each bracket advance the semifinals. The champion team will earn a slot to the PCCL National Final Four.