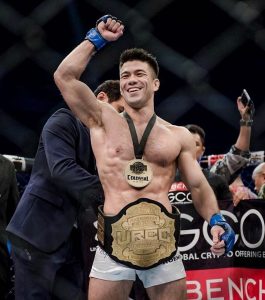 After his Sambo Gold Medal win for the Philippines in the last 30th Southeast Asian Games held last year, Mark Edward "Mugen" Martinez Striegl finally came for his first-ever visit to Davao City. Warmly welcoming him to our beloved city were Philippine Sambo President Paolo Claudio, VP Bogs Quitain, Secretary General Paolo Tancontian, and Sambo National Coach Ace Larida. Sambo, by the way, is a Soviet martial art and combat sport.
Mark was considered as one of the most handsome athletes who competed during the Southeast Asian Games 2019 by the Conan Daily. After his win, the 31-year-old martial arts athlete received a prestigious medal representing the rank of Kamagi under the Order of Lapu-Lapu from Pres. Rodrigo Roa Duterte. This recognition is given to officials and personnel of the government and private individuals who "actively participated and contributed significantly to an activity pursuant to a campaign or advocacy of the President in accordance to Executive Order No. 35, Section 1." As a resident of Baguio City, Mark was also honored in the Kafagway/Kordillera International Sports Luminary Awards Podium (Kislap) last year.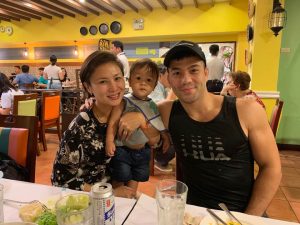 Mark Edward "Mugen" Martinez Striegl was born on June 23, 1988, in Tokyo to a Filipino mother and an American father of German descent. Both his parents were teachers in an international school in Tokyo, Japan. It was his elder and only brother Frank, whom he looks up to, who introduced him to martial arts. He started studying aikido at six years old then went for wrestling at eight years old. He also trained in Brazilian jiu-jitsu and Muay Thai while in Japan. It was while studying at a university in the USA that he got involved and got to like Mixed Martial Arts (MMA). He has since competed in MMC tournaments in URCC, Pacific Xtreme Combat, One Championship, WFC, Legend FC, Trench Warz, PRO Fighting, among others, held in different parts of the globe.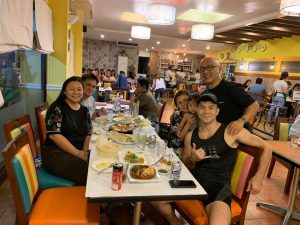 Mark uses "Mugen" (Japanese for "limitless" taken from an anime character in Samurai Champloo) as his fighter nickname. He has defeated strong and feared MMC fighters like Andy Jewett, Bae Young Kwon, Crisanto Pitpitunge, Giovanni Sablan, Yusuke Kawanago, Pan Wen Shi, Ev Ting, Marko Huusansaari, Alcer Lozada, Haris Sarmiento, Kaiwhare Kara, among others. The Mugen is presently the URCC Global Featherweight World Champion, a title Mark is preparing to defend this year.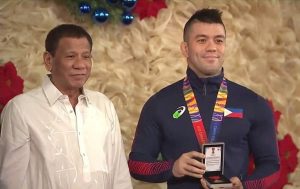 "I am now staying in Quezon City for my super training plus I also teach martial arts on the side to some individuals," said Mark during a dinner at Tiny Kitchen which I hosted for him and his pretty wife, Starr Zoella, and cute kid, Maximilian Aiden; along with my judo sensei Paolo Tancontian and his loving wife, Janet.
"This is my first ever trip to Davao City and I am looking forward to visiting the Crocodile Park and Paradise Island Beach Resort," he mentioned over dinner which had me call the Crocs Queen Jackie Garcia Dizon for some special arrangement for the champ and his family.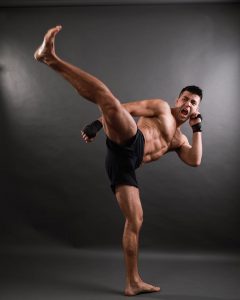 Mark is one big foodie who loved everything we ordered for dinner at Tiny Kitchen which consisted of a salad with cheese, fruits and nuts; paella Valenciana; lengua con champignon; osso buco; a chicken dish plus chorizos con gambas. He is also one loving husband who kept feeding his lovely wife while she was busy feeding their little son. And yes, Mark was vocal enough with his praises when pastry chef Donna Rodriguez came to greet us at our table. Unfortunately, chef Vincent didn't have the time for us as he was busy minding the kitchen with so many clients to feed on a busy Friday night. For dessert, it was naturally Tiny Kitchen's Brazo de Mercedes with mango filling I ordered for everybody. When we were about to leave the restaurant, Mark still went to the pastry shop for some sweets to bring back to their hotel. "I love everything here at Tiny Kitchen. We don't have these delicacies in Baguio. Oh my, but I have to burn all these calories when I go back home. I didn't expect for Davao to have all these delicious food I just couldn't resist. For sure, it's going to cost me a two-day water diet when I go back home for what I am enjoying now," he confessed.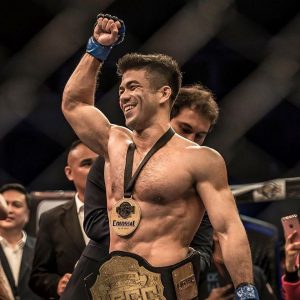 Mark and his wife, Star Zoella who is from Cavite but grew up in Manila, are so warm and friendly that it's not hard to get to like them instantly. Oh yes, I tried conversing with the solid muscle bodied Mugen in Japanese but he begged off saying he's not that fluent with the language despite growing up in Japan. What a night with the champ and his family!