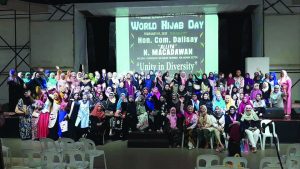 Celebrating World Hijab day usually happens every first day of the month of February. This is normally celebrated by different Muslimah from different Muslim countries gathering the same day, February 1, 2020. The National Cultural Minorities of Muslim Filipinos NCMF, in partnership with Arkat Lawanen Women Empowerment, Divine Mercy Foundation of Davao City and with the special participation of the Philippine Women's College of Davao, held the first World Hijab Day Celebration with around 350 women, Muslim and non Muslim, celebrating this momentous event with the theme "Unity in Diversity".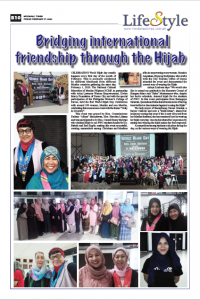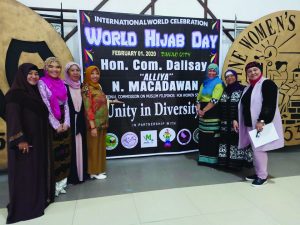 This event was graced by Hon. Commissioner Dalisay "Alleya" Macadawan, Hon. Henrieta Lidasan and was participated in by Hon. Consul Henny Mulyani who donated Hijab to our PWC students headed by Dr. Babeth and Emi Englis, making this event successful, creating camaraderie among Christians and Muslims alike in empowering every woman. Nurainie Ampatuan, Hiyas ng Kadyawan, who works with the City Tourism Office of Davao attended the event and demonstrated the correct way of wearing the Hijab.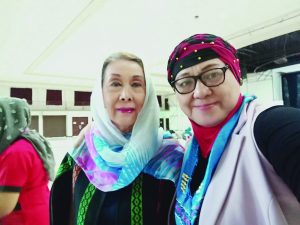 Asleya Limbona says "We would also like to extend our gratitude to the Honorary Consul of Hungary Mary Ann "Baby" Montemayor who, despite her hectic schedule, donated hijab for the students of PWC. In this event participants from Barangays Sarawak, Quesada and Maa shared testimonies of having been bullied or discriminated against in using the Hijab."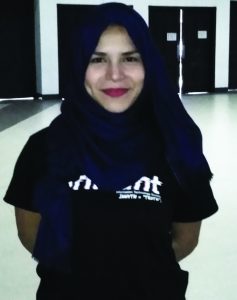 The lady mayor of Banaybanay, Davao Oriental, a former Catholic and now a "Balik-Islam", shared her testimony saying that even if she is now divorced from her Muslim husband, she has remained loyal in wearing her hijab everyday. One student shared her experience by saying that wearing the hijab makes her feel respected.
A competition among students took place during the day, on the various ways of wearing the Hijab.