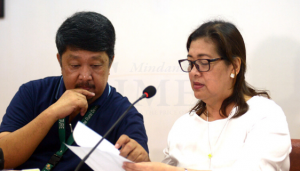 Agriculture officials yesterday confirmed the entry of African Swine Fever (ASF) in the city.
Both Department of Agriculture (DA) Regional Director Ricardo Oñate Jr. and City Veterinarian Dr. Cerelyn Pinili, in a press conference yesterday afternoon at City Hall, revealed that the ASF virus has affected pigs in barangays of Dominga and Lamanan in Calinan District.
Areas affected are now under lockdown and all meat products, including fresh meat and its by-products, are prohibited from being transported outside these areas.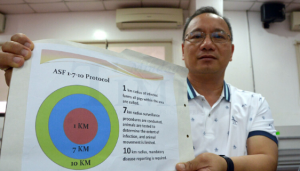 Oñate Jr. said samples that they sent to the Regional Animal Disease and Diagnostics laboratory at General Santos City and the Bureau of Animal Industry last week were tested positive from ASF.
City Veterinarian Dr. Pinili said three out of six samples from Lamanan and all two samples from Dominga were positive.
Pinili said they received a report from the livestock inspector that there were sick hogs from the two barangays in the second week of January.
CVO assistant head Dr. Esther Cherrie Rayos, in another presscon yesterday morning also at City Hall, said cases of hog deaths started on Jan. 2. But they conducted the investigation later in January as reports from the two barangays also came late.
Three pigs initially died but the number increased to more than 20.
They sent samples from the two barangays to the laboratory for testing on Jan 31. and Feb 3.
Because of this, the 1-7-10 protocol will be implemented by the government where there would be a depopulation of pigs and quarantine within the 1-kilometer radius from the ground zero, surveillance within the 7-kilometer radius, and a mandatory disease report within the 10-kilometer radius.
Affected in the one kilometer radius include the barangays of Dacudao, Dalagdag, Dominga, Pangyan, Lacson, and Lamanan, all in Calinan District.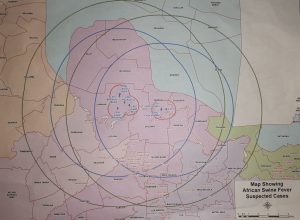 "For now, there are checkpoints there and all live animals can't be transported outside. Fresh and cooked meat are also not allowed," Pinili said.
She said they are coordinating with the Philippine National Police (PNP) to conduct checkpoints in the barangays of Dacudao, Lacson and Sumimao in Paquibato District, and information dissemination to barangay officials is also done.
The source of the disease is still being traced for now but they are suspecting that it came from leftover foods that are fed to the hogs.
Moreover, there are 30 reported cases of dead hogs but they are still updating it especially since there are also hog raisers who are living in the highlands that still have to be reached by the CVO. All hogs affected are from backyard hog raisers.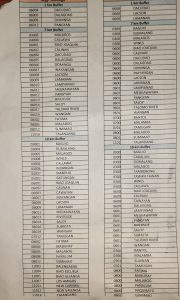 Pinili also clarified the rumors circulating online that there is a vaccine or remedy for ASF, saying "there is no vaccine as of now."
Oñate added that it would be great if there is a vaccine but unfortunately there is none.
Affected hog raisers, especially within the 1Km radius, should surrender their hogs to the government. For compensation, they would be given P5,000 from the DA, P5,000 from the city government, and the prevailing market price per kilo.
Hogs would be euthanized based on the mandate of Animal Welfare Law.
At present, there are 600 hogs in Barangay Dominga and 1,400 in Barangay Lamanan that would be affected by the lockdown.
The pork meat supply is not affected since there are also other hog producers in the city.
The city assures that people can still consume pork as long as they only buy from those with meat inspection certificate from the CVO.
Pinili said that they will do their best to mitigate the effects of ASF within the city. (Nicole Burlas and Sam Burgos)