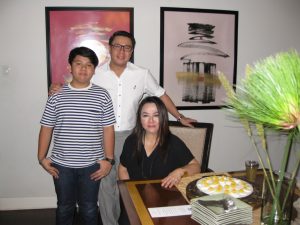 It was late last month when the respected gourmand and well-travelled socialite, Carmina Mapa-del Rosario, teamed up with AXA Philippines and invited her close friends for "cocktails and conversation with Marga Montemayor-Nograles of Kaayo Modern Mindanao." It was Carmina's way of celebrating a Davaoena fashion entrepreneur who is supporting Mindanaoan craftsmanship while at the same time providing sustainable livelihoods. Despite a previous engagement which I already had accepted, I dropped everything for Carmina as she's one person I love listening to when she talks about anything and everything. Two topics she's interested in particular, which I also love, are the subjects on Arts and Food (not necessarily in that order). She's descended from a fine line of art and food lovers. The chic Carmina's well appointed home, the venue for the gathering, is an impressive showcase of objets d'art. And yes, this New York-educated woman has always shown a mastery of understated elegance.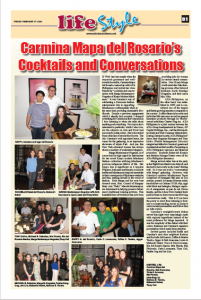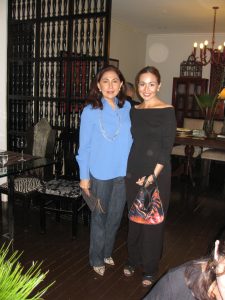 Marga Montemayor-Nograles, is of course held in high regard by fashionistas for her novel Kaayo modern Mindanao fashion collection utilizing Mindanao's precious indigenous fabrics of life. Her Kaayo line is significant as it inspires Filipinos, both male and female, to include traditional Mindanaoan-inspired ensembles in their contemporary Filipiniana wardrobe and thus, making inroads in the world of fashion. Both Marga and her ever best dressed mom, Hon. Consul of Hungary Mary Ann "Baby" Maceda-Montemayor, are determined in helping preserve Mindanao's traditional weaving art form. This beautiful form of livelihood has now been providing jobs for women in various lumad communities. Now if only Marga could match the Tala dancing prowess of her beloved husband, Karlo Bendigo Norgrales, and their unica hija, Nika.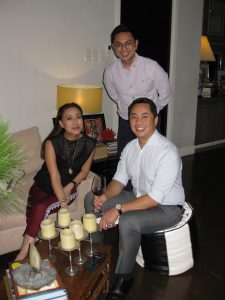 AXA Philippines, on the other hand, was established in 1999; and is considered one of the largest and fastest growing insurance companies in the country. It offers financial security and individual life insurance as well as general insurance products through its wholly-owned subsidiary Charter Ping An. AXA Philippines is a joint venture between the AXA Group headquartered in France, GT Capital Holdings, Inc., and the Metropolitan Bank and Trust Company (Metrobank). During Carmina's party, AXA Philippines' Jason Jaud (Segment Manager) and Tony Isidro (Wealth Management Director) mingled and talked to Carmina's guests and explained about the benefits of acquiring an AXA Philippines insurance and financial protection. Rochelle Rabat-del Rosario and Marissa Salonga-Tionko were all for AXA Philippines Insurance.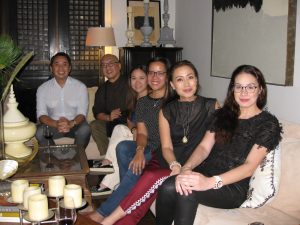 Marga arrived rather late at the party as her flight from Manila was delayed; and she had to leave early as she wasn't feeling well. So it was not at all a "conversation with Marga" gathering. However, with Carmina's modern Mindanaoan Tapas comprised of Sarangani fish pate on rice cracker, pomelo & banana blossom salad, tuna kinilaw on Calinan CCOR chip, eggs with bihod and talangka, Malagos capriccio & mangosteen on pan de sal, Davao humba, and the 6-hour New Zealand lamb pastil to feast on, there was no need for long conversations really. That is if you have the power to resist from listening to Rodney's so heart-rending stories on Davao's controversial personalities and follow him up with a Q&A.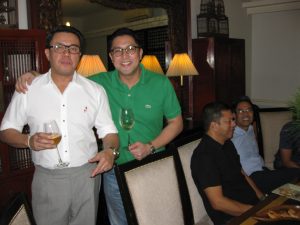 Carmina's straightforward dishes served that night were surprisingly made with regional ingredients instead of her usual preference for things imported. It was the simplicity of the dishes with their colors, freshness and Carmina's signature presentation which made them standout.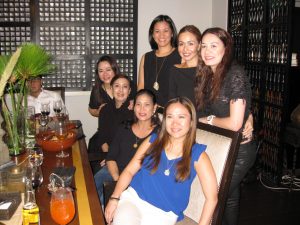 Invited guests included Raffy and Carmina's next door neighbors Rodney and Rochelle del Rosario, Toffee & Marisa Tionko, Jigger & Mel Avancena, Louie & Malouchi Gahol, Vince & Tricie Arcenas, Ria del Rosario-Santos, Mia Pineda, Mia Floirendo, Carlo Lorenzana, Tisay Celi, Fanfan Ong and Jen Lim.