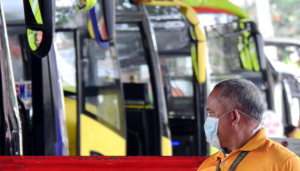 The Department of Health (DOH) Region XI announced that eight persons are under investigation in the region and another one was already discharged in relation to 2019 novel coronavirus (2019 nCoV).
DOH XI Regional Director Dr. Annabelle Yumang said that those people who are monitored are admitted at a hospital until the result for coronavirus test from Australia comes out. The one who was already discharged was placed under house quarantine.
Dr. Yumang clarified that so far there is no positive case in Davao region and Mindanao. Thus, DOH advised people to refrain spreading fake news and to stay calm.
They also encouraged to follow precautionary measures such as washing of hands regularly, covering of mouth and nose when coughing and sneezing, taking vitamins C, eating fruits and vegetables, and practicing a healthy lifestyle.
The government agency also ensured the public that in case one will test positive, their office together with agencies such as Bureau of Quarantine (BOQ), Philippine Ports Authority (PPA), Bureau of Immigration (BI), Philippine National Police (PNP), Armed Forces of the Philippines (AFP), Department of Social Welfare and Development (DSWD) and Department of Interior and Local Government (DILG) are ready to respond to any possible virus outbreak.
Though, there is no developed vaccine yet against 2019 nCoV, DOH XI said that their isolation facilities in Southern Philippines Medical Center (SPMC) and Davao Regional Medical Center (DRMC) are ready. In addition, antiviral drugs and medicines that treat symptoms of nCoV such as cough are also available. Yumang also said that private hospitals directly coordinate and cooperate with the agency.
On the issue of mask hoarding, Yumang advised the public that only those who are sick, people who take care of the sick, and health workers need to wear mask.
Task Force
The City Council has passed a resolution requesting City Hall to create a task force on the 2019 nCoV.
Councilor Pamela Librado-Morata, chair of the committee on labor and employment opportunities, pushed the measure.
"In lieu of the declaration of a public health emergency, (DILG) Secretary Eduardo Año has directed all local government units to be on a state of preparedness and take all proactive steps to stop the spread of the virus," she said.
With the confirmation of two cases in the country, the DILG has advised all local government units to create their respective coronavirus task forces to help contain and monitor the virus.
"The DILG stated that the local task force, under the direct leadership of the governor or the mayor, shall ensure that local health authorities have the necessary equipment and protective gadgets, such as masks, goggles, gowns, and gloves," she said.
The task force will refer and transport a suspected nCoV case to a DOH-designated center or hospital.
In response, Councilor Mary Joselle Villafuerte said that a team has already been established since the Ebola outbreak in 2014. She said that the said team must only be activated since it is in place already.
"During the 2014 Ebola outbreak, we responded by organizing an emerging and re-emerging of infectious diseases task force," said Villafuerte, a physician who heads the council committee on health.
Villafuerte said the said task force is composed of the personnel from the City Council, City Health Office (CHO), DOH, Central 911, DILG, Davao City Overland Transport Terminal (DCOTT), Public Safety and Security Command Center (PSSCC), Civil Aviation Authority of the Philippines (CAAP), BOQ, Customs, PPA, PNP and AFP, among others.
She also there is also an organized rapid action team, which comprises of doctors from the CHO.
"I will inquire with the DILG if we need to form another task force or just reactivate the existing emerging and re-emerging task force, because that is already a highly trained group and it already has functions that are very clear, and since coronavirus is emerging, then this still falls within the task force that was created in 2014," she said.
Villafuerte has also assured to coordinate with the DILG to respond effectively and efficiently to the nCoV outbreak. (Sam Burgos and Yvette Balayon/UM Intern)