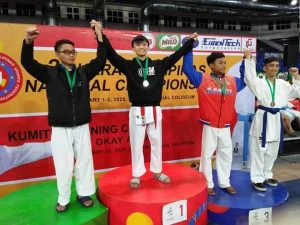 Davao City –Davao Christian High's Alden Solon and Brokenshire Colleges' Stephen James Cartagena got themselves a ticket to the coming Southeast Asian Karate Federation (SEAKAF) Championships after earning respective finishes in the recent 2nd Karate Pilipinas National Karate Championships held February 1 and 2 played at the Rizal Memorial Sports Complex in Manila.
Solon bagged a gold medal in the Cadets -52kgs kumite while Cartegena took a silver finish in the Cadets +70kgs kumite category to add on to Karate Pilipinas Sports Federation Inc. Region XI's total of three golds, three silvers and 10 bronze medals.
"I am proud of them. They came from AAK-Davao's grassroots program and now are part of the RP team," said AAK (Association for the Advancement of Karatedo)-Davao chief instructor and Karate Pilipinas Sports Federation Inc. Region XI director Rommel Tan.
AAK Davao's medal haul also saw gold medal performances from Jamie Danielle Nirza (Girls Kata 12-13 years-old) and Jared Dale Nirza (Cadets Boys Kata). Silver medals were from Vryse Ederwiess Krebs of Stockbridge (Girls 6-7 years-old Kata) and Robert Dayanan of DCHS (Boys 8-9 years-old Kata). Bronze medals came from Julian Ambrose Ramirez of Ateneo (Under 21 -67kgs Kumite/-67 kgs Kumite), Ian Carlos Pascual of AISAT (Under 21 -60kgs Kumite/Seniors -67kgs Kumite), Sofia Agullo of Ateneo (Women's Under 21 -50kgs/Seniors -50kgs Kumite), Ryga Kejne Villa (Girls 6-7 years-old Kata), John Paul Ponce of Precious Academy (Juniors -68kgs), Robert Lawrence Avancena (Boys 12-13 years-old Kata) and Frea Hercel Davis (Girls -59kgs Cadets Kumite).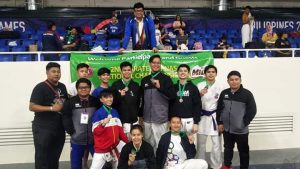 Jhon Albert Albarico who coached AAK-Davao's stint in the two-day competition also took the National Coaches License exam and placed second with a grade of 84.2 along with Ella Ray Quicho who passed the official's license exam for judge and referee.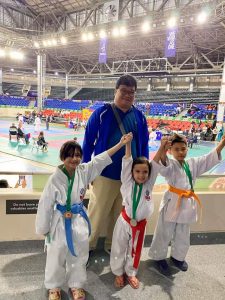 AAK-Davao would like to thank its supporters – Jay and Joanne Ramirez, Lotes and Bobby Avancena, Ruth Agullo, Jhe and Gary Villar, Maethel and Edgar Ponce, Sharon and Richard Lu, Jaye Nirzs, Mrs. Davis, Mr. and Mrs. Robert Dayanan, Mr. and Mrs. Jm Krebs, Jack and Emery Neble, Mahugani Security Agency (Miguel Ramirez) and the Davao City Sports Council Incorporated President Dexter So.