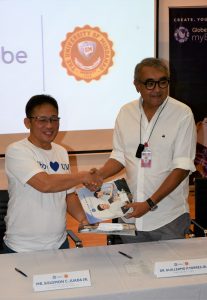 Realizing the need for students to have better access to the internet and stay connected in today's digitally-inclined academic environment, the University of Mindanao and Globe Telecom furthered their partnership as officials broke ground Tuesday, February 4 for a site tower at the Matina campus.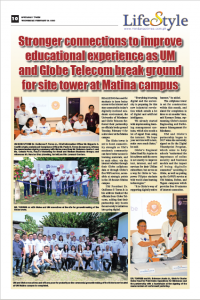 The Globe tower is set to boost connectivity strength so UM's academic community can have better access to learning materials, and to each other; via the internet whether through their Globe cellphone data or through Globe's free WiFi service, accessible at strategic points in the 28-hectare Matina campus.
UM President Dr. Guillermo P. Torres Jr. in his address thanked the officials from Globe Telecom, adding that their partnership only boosts the university's initiatives into going digital.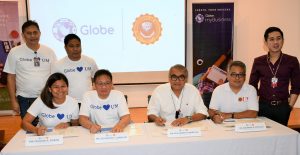 "Everything is turning digital and the university is preparing for this new industrial revolution which entails a lot of digital and artificial intelligence. We already started with implementing learning management systems, which also needs a lot of signal from using the internet. We hope your services will in turn, make ours much faster," he said.
Globe's Regional Sales Head Ric Aquino in his address said the move is not merely to improve text, internet, and call services for their UMian subscribers, but serves as a way for Globe to "empower Filipino students with world-class learning technologies."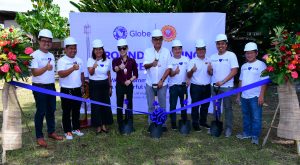 "It is Globe's way of supporting digitally native learners," he added.
The cellphone tower is set for construction within this month, and slated for completion in three to six months' time, said Rosauro Batan, representing Globe's Access Engineering and Performance Management for Mindanao.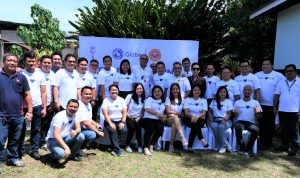 UM and Globe's partnership began in 2017 when the university signed on for the Digital Thumbprint Program, which aims to help schools "understand the importance of online security and business models and the impact of being digitally connected," according to Globe, as well as putting up the GoWiFi service at UM Matina, Bolton, and Tagum campuses which provides free 30 minutes of internet connection.