Team DU34GO pulled off a gritty 73-67 victory over IBP to take a 2-0 series lead in Game 2 of their basketball friendly series on Friday night at the Arcadia Activity Center.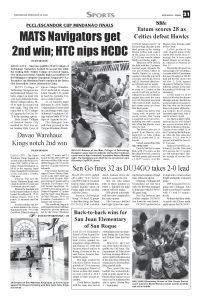 Senator Christopher "Bong" Go fired 32 points to lead the charge for Team DU34GO that needed clutch baskets down the stretch to secure the win.
Sen. Go, who rained with 11 three pointers in Game 1, finished the tight contest with six triples.
IBP played extremely well this time compared in the series opener.
The lawyers battled hard right from the opening buzzer looking to found their offensive rhytm.
Dapaing, Cadiogan and Ciudadano set the tone early for IBP that managed to keep pace with DU34GO all game long.
But the lawyers just couldnt outplay DU34GO in a down the wire finish.
DU34GO probed to be a tough nut to crack in hard fought and tightly contested game.
IBP was paced by Dapaing and Cadiogan who made a combined 31 points with 17 and 14 respectively.
Malinao had nine while Acojedo and Flores made eight apiece for DU34GO.