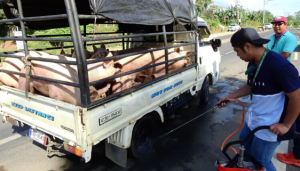 The Province of Davao Occidental has been declared under a state of calamity due to the African Swine Fever (ASF) that has affected up to 13,000 hogs in some of its municipalities.
Several cities and provinces, meanwhile, also declared to ban hogs and other meat products from Davao region.
Davao Occidental Gov. Claude Bautista yesterday confirmed they made the declaration following recommendations from authorities and groups on their proper response to the outbreak.
The declaration will also give way to the release of the calamity funds to help the affected farmers, said Bautista adding that the outbreak could damage up to P50 million worth of livelihood in the newly formed province.
The outbreak has already affected a hundred hog raisers in Davao Occidental, which to date has a hog population of 13,000.
ASF cases were recently confirmed in the towns of Don Marcelino and Malita.
Bautista said the provincial government is awaiting the test results on the pig blood samples from the towns of Sta. Maria and Jose Abad Santos.
The province, composed of five municipalities including the island town of Sarangani, has been put on lockdown, with the entry and exit of all hogs and pork products banned.
Don Marcelino, which the outbreak was first reported, has already implemented a total ban on the transport and sale of hogs, all pork products and by-products since Jan. 31, after approximately 1,000 pigs have already died due to the disease.
At least eight barangays in Don Marcelino were initially affected by the outbreak. These were the villages of Linadasan, North Lamidian, South Lamidian, Calinan, Mabuhay, Lawa, Nueva Villa, and Baluntaya.
Seven barangays in the adjacent town of Malita were later reported to be affected. These are Bito, Kidalapong, Tubalan, Felis, Mana, Talogoy, and New Argao.
Bautista is urging his constituents to surrender their pigs to contain the spread of the virus.
The Agriculture Department will pay P5,000 per head of culled pig, regardless of age, and provide P30,000 worth of loans to the affected hog raisers.
The provincial government will assist in giving monetary consideration to hog raisers in Davao Occidental depending on the kilos of pork which will be turned over to them.
In Jose Abad Santos, officials are seeking confirmation of 800 suspected cases of ASF in four of its 26 barangays.
Mayor Jason John Joyce identified the four barangays as Caburan Big, Caburan Small, Mangile, and Patulang near Don Marcelino.
Joyce said they learned about the ASF in neighboring Don Marcelino only on Jan. 31 when Mayor Michael Maruya in a memorandum said "more or less" 1,000 pigs had died in eight of its 15 barangays and the DA had confirmed the deaths were due to the ASF.
"We had cases in JAS, which we thought were only ordinary swine disease," he said.
Municipal agriculturist Ronville Muego told MindaNews on Tuesday morning that the suspected 800 cases include those who have died and those who are showing symptoms of the disease.
"Some are dead, nilibing na deretso" (they were buried immediately), Muego said. He said they were also surprised to learn about the 1,000 deaths of pigs in Don Marcelino and the news about it led to their own residents reporting on suspected cases.
Of the four barangays where suspected cases have been reported, only two are contiguous: Caburan Big and Caburan Small, which is the poblacion.
Barangay Mangile, he said, shares a boundary with Don Marcelino, the "Ground Zero" of ASF in Mindanao. Between Mangile and the two Caburans, Muego said, is 12 kilometers, passing through at least two barangays, while Patulang is even farther away from the Caburans.
Muego said they will await the results of the confirmatory tests that was conducted on Tuesday.
Muego is presently in Malita where all of the province's five mayors, municipal agriculturists and veterinarians, have been summoned by Gov. Bautista for a meeting.
Bautista told the Philippine Information Agency on Sunday that there will be "thorough investigations" and that he would call on the municipal and provincial veterinarians and listen to the testimonies of residents who had complained to them beforehand "kung bakit hindi kaagad na-address itong problema, bakit umabot pa sa ganito" (why this problem was not immediately addressed, why it has come to this).
Lockdown, ban
Gov. Steve Chongbian Solon of Sarangani ordered the temporary lockdown on the entry of live hogs and all meat products into Sarangani amid the ASF that currently plagued the neighboring Davao Occidental.
Davao City Mayor Sara Duterte already declared a ban of hogs and meat-product from Davao Occidental and Davao del Sur.
Cebu, Negros Occidental, North Cotabato, and Misamis Oriental also issued a directive prohibiting the entry of pork and other by-products from Davao Region to prevent the spread of the virus within their respective provinces.
The confirmation of ASF outbreaks in Don Marcelino and Malita towns came nearly five months after Agriculture Secretary William Dar confirmed on Sept. 9 that the ASF had reached the Philippines, with outbreaks recorded in Rizal and Bulacan, later spreading to neighboring areas, all in Luzon.
ASF is a highly contagious hemorrhagic viral disease affecting domestic and wild pigs, and although it poses no risk to humans, causes serious economic and production losses, according to the OiE World Organization for Animal Health.
The Bureau of Animal Industry (BAI) said the disease is "characterized by high fever, loss of appetite, hemorrhages in the skin and internal organs, and death which follows between two to 10 days on the average" and mortality can be as high as 100%.
There is currently no vaccine against ASF and no treatment is available, it added.
The disease, according to BAI, is transmitted by direct contact or by ingestion of garbage/swill feeds containing infected pig meat or pig meat products, ticks and biting files, contaminated premises, vehicles, equipment and clothing. (with reports from PNA/MindaNews)