It was one unforgettable evening that feted the Davao Tourism Association's 45th anniversary, the reinvention of select Mindanao cuisines by Davao Region's finest chefs, and get-together of some of Davao tourism stalwarts.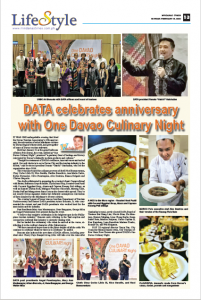 Held last January 31 at the grand ballroom of Marco Polo Davao, the event, dubbed as "One Davao Culinary Night", promised "a gustatory feast of heritage and history reinvented by Davao's distinctly modern products and cultures."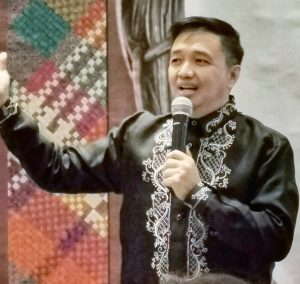 "Tonight is a testament of DATA's resilience, innovativeness and united spirit. Our only desire is to serve Davao City and the tourism industry to the fullest," said re-elected president Renato "Gatchi" Gatchalian, who led the organization since 2016.
The event showcased the culinary prowess of chefs Noel Buenaventura, Choy Cerbo Llido lll, Nico Serafin, Pauline Benedicto, Ana Maria Cacho, Richie Ferrazzini, Olive Puentespina, Alex Destriza, Bianca Delgado and Clinton Gtegorio.
The chefs collaborated in preparing the evening's feast: Cassava Bread with Butter, Balbacua Crepe Roulade, Tiyula Itum Soup, Roasted Goat Pastil with Coconut Eggplant Soup, Atsara and Caprese Kesong Puti sidings, as well as Kamote Durian Roll, Malagos Flourless Chocolate, Marang Cake, Durian Puff and Mangosteen Pana Cota on the dessert table spread. They're not exactly Davao signature dishes but definitely scrumptious reinvention of fares inspired by the Mindanao's diverse cultures.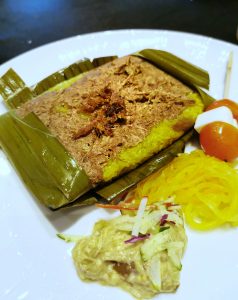 The evening's guest of honor was no less than Department of Tourism Undersecretary and former DATA president Arturo Boncato, Jr, who commended the current and past DATA presidents who worked hard for the association and the industry.
Past Presidents Mary Ann Montemayor, Gene Bangayan, George Misa and Angel Puentespina were present during the event.
"I believe that tonight's celebration is the brightest spot in the Philippines tourism industry," Boncato said, referring to the Taal eruption and coronavirus outbreak that industry is currently dealing with.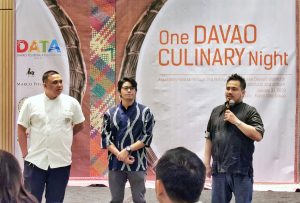 But he lauded the celebratory vibe when he arrived at the venue, attributing it to the resilient character of the Dabawenyos.
"We have remained impervious to the jitters despite of all the odds. We continue to celebrate whatever there is to celebrate," he added.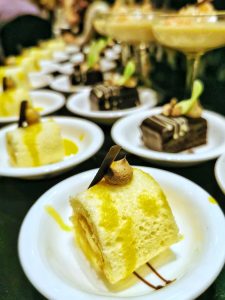 Boncato also inducted the new slate of DATA officers, including president-elect Cherry Faye Banquil Al-ag (who will take over the reins after Gatchalian's term), newly elected DATA Board of Trustees Bai Siang Lim, Nicole Bian, Pia Montano, Hermie Tabañag, Lynn Cheng Barlis, Susan Isabel Reta, Marilou Ampuan, Carlos Capitan II, Ken Kapulong, Lena Benedicto Marissa Tionko, Ronald Go, and Wit Holganza.
DOT Xl regional director Tanya Tan, City Councilor Myrna Dalodo Ortiz, City Tourism officer Gene Rose Tecson also graced DATA's One Davao Culinary Night.