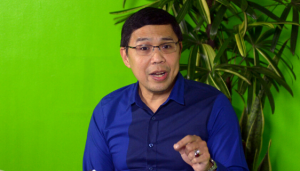 The camp of Kingdom of Jesus Christ (KOJC) founder Apollo Quiboloy has denied immigration fraud and human trafficking charges leveled against them by the Federal Bureau of Investigation in California and Virginia, USA.
On Wednesday (US time), US Federal agents raided the KOJC and arrested its three administrators identified as Guia Cabactulan, Marissa Duenas, and Amanda Estopare for alleged conspiracy to commit immigration fraud.
Lawyer Israelito Torreon, Quiboloy's counsel, said the allegations are not true and their administrators are just exercising their religious rights.
Torreon said "it's is a grand conspiracy of lies."
"We will show to the world that Pastor Apollo C. Quiboloy is innocent of the insinuations that they have hurled against our clients and we will show them that the administrators were just exercising their religious rights in spreading the good news to the whole world," Torreon said in a press conference yesterday.
He said they are ready to face the charges.
Torreon said that they are ready, able, and willing to respond to the charges and they will prove their innocence in any court.
The lawyer pointed out that the accusations against KOJC were fabricated by Quiboloy's former most trusted man and some disgruntled individuals who left the group.
Torreon said the issue sparked when Quiboloy issued an "innocent directive" to have an audit of all departments of KOJC, leading to the departure of some people who are supposed to face disciplinary action.
After that, Torreon said that these people allied with those who are against Quiboloy.
They started making false claims against the church leader, the lawyer said.
"Their aim, therefore, is to exact revenge, extortion commingled with a brazen but shameless desire to put (Quiboloy) and KOJC as a whole into shame, humiliation, and defeat through charges," Quiboloy's camp said in a statement.
In the latest case, 12 former KOJC members, including Quiboloy's former lawyer, reportedly gave statements to the Federal Bureau of Investigation (NBI), leading to the raid.
Torreon said Quiboloy was saddened over the latest development for the accusers are people who were close to the church leader and he is hoping that these people would "wake up and realize that all these legal bruhaha is really nothing, will serve nothing, and they will go back to the kingdom."
When asked about how it affected the KOJC, Torreon said that it didn't faze them since this was something that they have expected since the departure of the former members in addition to the rising influence of Quiboloy. Moreover, he advised their members not to be disheartened by this.
Hands off
Malacañang distanced itself from the raid conducted by FBI agents in the KOJC churches in different US, which led to the arrest of three church administrators accused of arranging sham marriages to fund a fraudulent charity.
Presidential Spokesperson Salvador Panelo said the Palace will not intrude in the ongoing investigation on the alleged human trafficking and fund-raising scam since it respects the laws and ordinances of the US.
"If the raid is legitimate then we cannot complain about that," Panelo said in a Palace briefing on Thursday.
He assured that close ties between President Rodrigo Duterte and Quiboloy, the self-proclaimed "appointed Son of God", would not affect the case.
"If a crime is committed in any country then the laws of that country will have to be followed," Panelo said. "We have to respect them the way we ask them to respect ours."
Reports showed that FBI agents on Thursday (Manila time) arrested three church administrators during morning raids at KOJC's offices in California and Virginia.
The three arrested church administrators, Cabactulan, 59; Duenas, 41; and Estopare, 48, were charged for conspiracy to commit immigration fraud.
The arrests came after fundraisers who managed to escape from the church told the FBI that they were brought to the US and forced to solicit donations for the church's charity, The Children's Joy Foundation.
The fundraisers also claimed that they were physically and psychologically abused if they failed to meet quotas.
Cabactulan was accused of withholding the passports of their volunteers and overseeing operations while Duenas was allegedly falsifying documents and information to immigration officials. Estopares was accused of being in charge of collections.
Some USD20 million was raised between 2015 and the middle of last year while there were at least 82 sham marriages over 20 years, reports showed.
In February 2018, Quiboloy was briefly detained in Hawaii after USD35,000 in cash and gun parts were found in his private plane, which was bound for the Philippines.
Quiboloy was also accused of running a child sex ring by a former church member in October 2018.
The Davao City-based KOJC claims to have seven million members worldwide. (with PNA report)