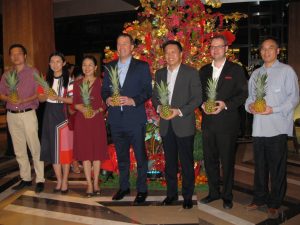 With Australia's massive and uncontrolled bushfires, Taal Volcano's hazardous eruption, and China's new and fatal coronavirus which has become a global concern, Chinese and Chinoy fortune tellers' forecast for the New Year of the Golden Rat to be a prosperous and energetic new year seems doubtful. Mother China's seven-day Lunar holiday itself was dampened with Chinese authorities' shutting down several cities in its brave quarantine effort aimed at containing the coronavirus contagion. But one soothsayer said, "It is the year to make the most of strengths and build on chances. For the determined, much is possible. Goals and aspirations will most likely be achieved this year." I guess this is what the owners, management and staff of Dusit Thani Residence-Davao, dusit D2 and Dusit Thani Lubi Plantation Resort strongly believe in. With much optimism for the Year of the Golden Rat, they happily celebrated with a low key but elegant reception the start of the Chinese New Year last January 25 at 7 p.m.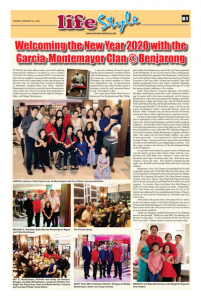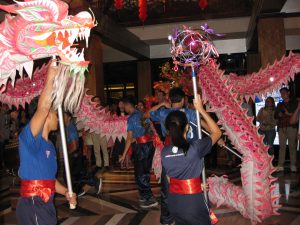 "With a huge Filipino-Chinese community, Davao City is no stranger to the Lunar New Year traditions and festivities. Like the regular new year, the Chinese New Year signifies good fortune, prosperity, peace and stronger family ties. It is a happy celebration with big family gatherings over a sumptuous dinner," said Kathy Calilao, the Manila-based Marketing & Communications Manager of dusit D2.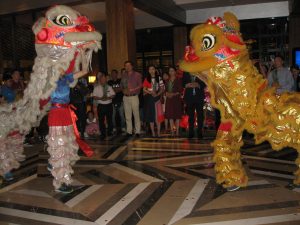 Indeed, the Dusit Thani-Davao celebration started with a most lively and energetic lion/dragon dance performance at the lobby. Yes, the performers admirably wore new costumes in bright colors this time around. It must have inspired them to dance with such might in front of the VIP guests holding each a pineapple led by the suave Dusit Thani General Manager Christopher Wichlan. The guests included Chinese Consul General Li Lin and his lovely wife, madam Aiping Chiu, and daughter, Li Jian; Chinese Deputy Consul General Tang Duokan; Phoenix Petroleum Chairman Domingo Uy with daughter Debbie; Elevation Travel GM Jimmy Lin; Dusit Thani-Davao GM Christopher Wichlan; and Dusit Thani Lubi Plantation Resort GM Christopher Kuch. Dusit Thani's lovely and voluptuous Director of Sales Lannie A. Merilo (the Lady in Red that night) and Marketing & Communications Manager Kathy Calilao wore their best smiles in welcoming the guests and spreading Dusit Thani's friendly hospitality.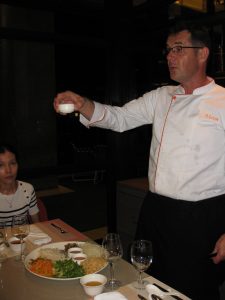 Guests were then led to the Madayaw Cafe for the splendid food for the Golden Year passionately prepared by Dusit Thani-Davao Executive Chef Jean Marc Vernon. There were stations for guests who opted for Oriental cuisine as well as those who favor International cuisine. At the reception room where we were seated comfortably along with the Uys, Lims, and the young businessman Gabriel Lorenzo, we started with the diners armed with chopsticks tossing the Prosperity Salad or Yee Sang to bring health, wealth and happiness to our lives this new year. The other dishes consisted of marinated jellyfish, braised longevity noodle, steamed chicken with ginger, steamed glutinous rice with chicken (loh mai gai), among so many other traditional Chinese food. The dessert station was a total surprise for me. Sweet-toothed that I am, there were so many cakes, cheesecakes, tarts, pies, mouses, and fresh fruits for the taking. Yes, the pastry chef of Dusit Thani-Davao is truly talented I must say.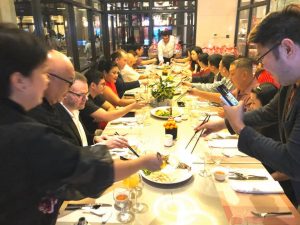 As if the heavy dinner wasn't enough, the sexy lady in red, Lannie A. Merilo, still invited us for some alcoholic drinks at the Benjarong Bar & Restaurant which was also filled with friendly diners from the city's Hijos de Davao whom I gladly introduced to Manilenas Lannie and Kathy.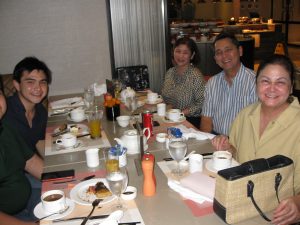 By the end of the evening, the fortunate guests were each presented a basket containing eight oranges for good luck to bring home. Oh yes, the oranges were so sweet that one can only hope that this year will be as sweet to us as well. Thank you, Dusit Thani-Davao, dusit D2, and Dusit Thani Lubi Plantation Resort. Wishing you all the best this New Year of the Golden Rat has to offer.