Nicole Burlas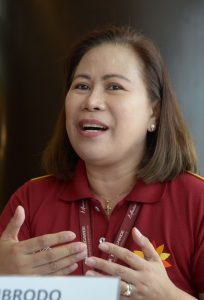 THE company operating the Mactan-Cebu International Airport (MCIA), GMR Megawide Cebu Airport Corporation (GMCAC) and its partner airlines, promotes new flights and services to travel agents in the city.
"This (event) is an efficient way to bringing together the airport operator, airlines, and travel agents, and it's a great opportunity to forge partnerships and create win-win business arrangements," said Aines T. Librodo, head of Airline Marketing and Tourism Development of GMCAC.
The location of Cebu makes it more accessible and ideal for passengers, she said, adding that, "MCIA is a viable alternative for passengers coming from the Visayas and Mindanao who wants to go to other cities in the Philippines and outside the country."
Librodo also added that aside from its accessibility, MCIA also offers world-class facilities to transfer passengers.
GMCAC has partnered with different airlines in holding the event.
The city, the company said in a statement, is second in terms of domestic passenger traffic among the regional destinations, next only to Manila. As of 2019, traffic between the two destinations increased by 7.3% increase to 799,540 with 70 flights per week, according to MCIA as it has pushed to to improve the domestic and international connectivity between the two destinations.
The company is also expected to conduct sales missions in other cities as well such as Cagayan de Oro, Bacolod, Iloilo, and Tacloban through product presentations and business to business networking sessions next month.
GMCAC took over the facilities and services of MCIA in 2014 under a 25-year public-private partnership concession agreement with the Philippine government as it aims to ensure that MCIA can meet the demands of its steadily growing passenger traffic.
On the other hand, MCIA is connected to 28 domestic destinations and 21 international destinations with nine domestic partner airlines and 17 international partner airlines. As the Philippines' resort-airport, MCIA seeks to provide facilities and services that reflect the warm, friendly, and colorful resort experience that Cebu is internationally known for.