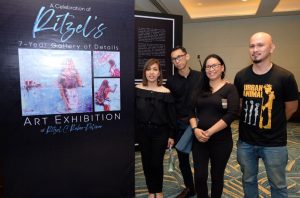 Last January 18, Atty. Ritzel Rabor-Polinar bared herself anew to fellow artists and contemporaries, enthusiasts, and colleagues in her most recent art exhibit in Marco Polo Hotel Davao.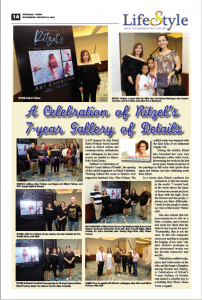 Dubbed 'A Celebration of Ritzel's 7-year Gallery of Details', the opening of the exhibit happened on Ritzel's birthday. Working behind the scene is Ritzel's ever supportive husband Atty. Glen Polinar. The exhibit setup was designed with the kind help of art enthusiast Angely Chi.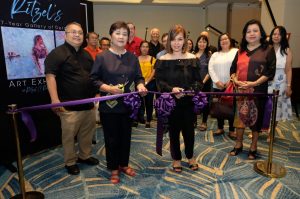 During the exhibit, Ritzel also launched her very own hardbound coffee table book, showcasing her works in the last seven years. Inside are photos of her paintings in full color with quotes from sages and writers; and also endearing notes from Ritzel.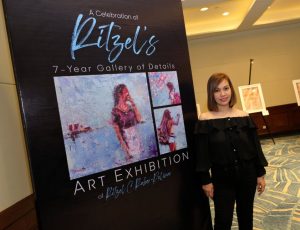 In a recent chat, Ritzel confesses her inclination to find the beauty in the world. "I would look at the wires above the lanes of downtown streets and look at them with the light. Even the flowers and the people, I always see them differently. I wish for the people to share my view of the world," Ritzel said.
She also admits that her preoccupations in life as a wife, a mother, and a lawyer had made her think that the artist in her is gone for good. "Fortunately, that is not the case. In fact she reappears every now and then to nourish the longing of my soul," she said. Ritzel's mediums in her showcased works are her favorite watercolor and acrylic.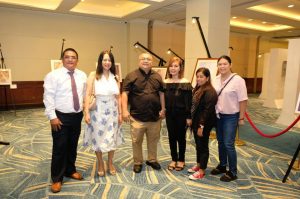 With all her soulful works, piano and violin music on the side, and the heaps of laughter among friends and family, A Celebration of Ritzel's 7-year Gallery of Details was indeed a colorful way to a birthday fete! Photo: Shem Torre Longakit