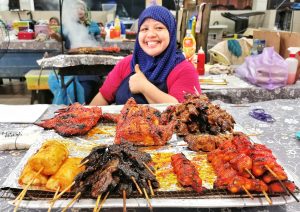 The good thing about being a tourist in a tiny country like Brunei Darussalam is that one can easily explore its attractions in a day or two, then spend the rest of your stay doing R&R.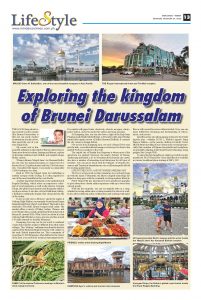 My recent visit to this peaceful sultanate on the island of Borneo allowed me to learn more about its culture, heritage and history, explore its luxuriant rainforest and wildlife, and sampled unique Malay cuisine.
When in Brunei, Masjid Jame' Asr Hassanal Bolkiah, one of its two national mosques, is a must-visit. It is known for its 29 golden domes and four 190-foot minarets.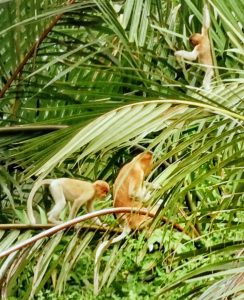 Considered the largest, it can easily accommodate 5,000 worshipers at a time.
Built in 1958, the Masjid Omar Ali Saifuddien is another mosque worth visiting. It is often regarded as one of the most beautiful in the Asia Pacific.
Another important destination is the opulent Royal Regalia Building, which stores an impressive collection of royal mementos as well as the massive Usongan Diraja, the gilded royal chariot used during the Sultan's royal procession. It also has a Royal Exhibition Gallery, a definitive multimedia display that chronicled the life of the Sultan.
In my six-day stay in Brunei, I spent four nights at Gadong Night Market, conveniently located near Rizqun International Hotel, where I was billeted. The hotel is also attached to The Mall, Brunei's largest retail center. The market offers a variety of Malay, Indian, Chinese, and even Western fares, mostly, grilled and fried and priced at Brunei $1 (around P38). What I also love about it is that Gadong Night Market is clean, spacious and has around 150 stalls manned by friendly Bruneians.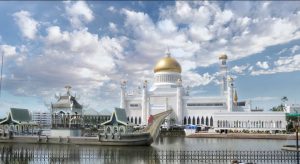 Kampung Ayer may not be too novel to southeast Asians but its history makes it different from other water villages. This "floating" settlement was then the de facto capital of the Bruneian Empire from the 14th century to the early British imperialism era. This community of more than 13,000 Bruneians, often dubbed as the Venice of the East, is accessible by motorized passenger ferries. It is replete with piped water, electricity, schools, mosques, clinics, police station, and even marine fire station and mini-museum.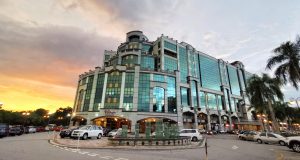 At Kampung Ayer, one can also have a sight of the Raja Isteri Pengiran Anak Hajah Saleha Bridge, a 300-meter cable-stayed bridge named after queen consort of Sultan Hassanal Bolkiah. It connects the city center to Sungai Kebun.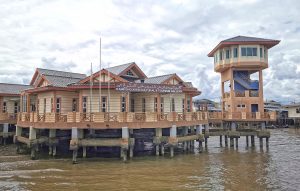 Not too far from Kampung Ayer, we took a Brunei River tour into the lush, crocodile-infested mangrove forest just to observe the playful Proboscis monkey in the wild.
The capital city of Bandar Seri Begawan is where most of the attractions are situated. However, the nearby districts of Tutong, Temburong and Belait, a 20- to 30-minute drive from the city center, also have a number of interesting local attractions for all types of travelers. You can get in touch with the Ministry of Primary Resources and Tourism at bruneitourism.com or @borneoguide.official for exciting guided tours.