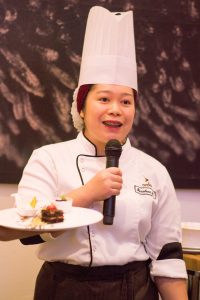 Whether it's a five-course wine-pairing dinner or a dinner buffet, Misto assures a delectable set of flavors to match the romantic season this Feb. 14.
This Valentine season, Misto's award-winning culinary team aims to cater to more guests as it offers a five-course wine dinner and a buffet spread, dubbed as "Dine Together."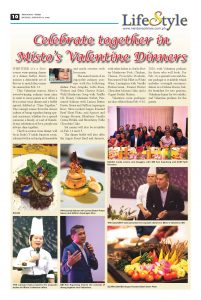 The concept comes from the classic culture of being together during special occasions, whether for a special someone, a family, or a set of friends. In any celebration of love, people can always dine together.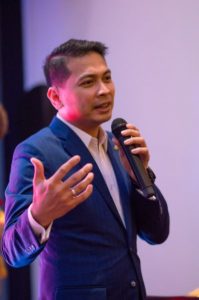 The five-course wine dinner will be in Seda's T'nalak function room, adorned with a red and gold ensemble and made sweeter with live music. The menu boasts of an enjoyable culinary journey with the following dishes: Pear, Arugula, Lollo Rosa, Walnut and Blue Cheese Salad, Wild Mushroom Soup with Truffle Oil, Honey Calamansi Sorbet, Pan-seared Salmon with Lemon Butter Prawn Sauce and Saffron Asparagus Rice, Slow-cooked Angus Roasted Beef Short Plate, and Apricot and Orange Mousse, Blueberry Vanilla Crème Brûlée, and Strawberry Trifle Chocolate Cake.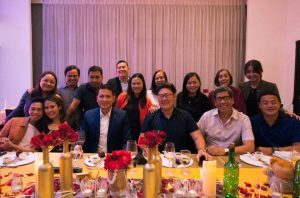 Set menus will also be available on Feb. 14 and 15.
The dinner buffet will also offer the Angus Roast Beef and desserts, with other dishes as Garlic Butter Mushroom Pork, Chicken, Cheese, Prosciutto Roulade, Pan-seared Fish Fillet in White Wine, Lamington with Vanilla Buttercream, Peanut Butter Chocolate Mousse Cake, and a Yogurt Parfait Station.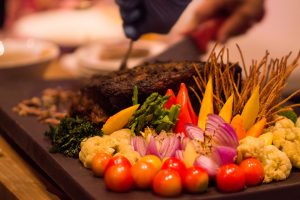 Valentine room packages are also offered from Feb. 9-16, 2020, with Valentine pralines for those who will book. For Feb. 14, a special room and dinner package is available which includes: overnight accommodation in a Deluxe Room; buffet breakfast for two persons; Valentine dinner for two adults; and Valentine pralines for the guests.