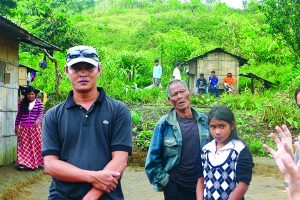 General Santos City (MindaNews) — For over two decades, 50-year-old Rene Pamplona has been a crusader for the protection of the environment and the rights of Indigenous Peoples affected by mining and agribusiness ventures in southwestern Mindanao.
He has become the face of environmental and land struggle in Region 12 comprsiing South Cotabato, North Cotabato, Sultan Kudarat, Sarangani and the cities therein (collectively known as Soccsksargen), always at the forefront of street protests with the backing of the local Catholic Church and environmental groups.
His crusade earned for Pamplona the 2018 Alexander Soros Foundation Award for Environmental and Human Rights Activism, the only Filipino so far to have won the global recognition.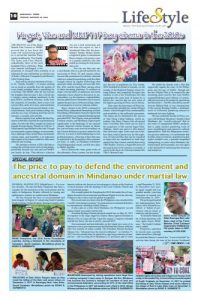 His award came at a time when the Philippines was considered the "world's most dangerous place" for land and environmental defenders by international watchdog Global Witness.
It also came at a time when Mindanao, the Philippines' second largest island, was under martial rule.
President Rodrigo Duterte declared martial law on May 23, 2017 in response to the siege staged by Islamic State-inspired militants in Marawi City in Lanao del Sur. Upon his request, Congress extended martial law thrice, the last to end by yearend 2019.
Environmental and land defenders on the island were wary of its extension even as government troops had defeated the Islamic militants after five months of urban combat. The President himself declared Marawi City "liberated from the terrorist influence" on October 17, 2017 but two-months later, he asked for a year-long extension of martial law – still covering all of Mindanao's 27 provinces and 33 cities — until December 31, 2018. In December last year, he again sought and was granted another year-long extension of martial law until December 31, 2019.
The prolonged martial law implementation, Pamplona told MindaNews, reflects a "failure of governance and an abuse of authority and discretion."
"It should be lifted and let civilian supremacy rule once again across Mindanao," the South Cotabato native added.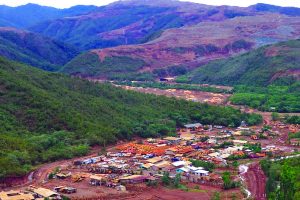 Pamplona admitted he moved more carefully under martial law, although he noted that Duterte's martial law "is not as dreaded" by activists than during the time of the dictator Ferdinand Marcos.
Marcos declared martial law in September 1972. People Power ousted him in February 1986.
Pamplona explained that martial law under Duterte was declared within the context of terrorism while Marcos' was in the framework of political and social unrest, "targeting personalities critical of the government."
Pamplona confirmed receiving death threats and experiencing intimidation because of his work to protect the environment and the rights of Indigenous Peoples.
He had worked with the local Catholic church in South Cotabato province as its environmental advocacy campaigner for 15 years, after which he founded the local non-profit Convergence of Initiatives for Environmental Justice.
For decades, they have been opposing the Tampakan project, the largest known undeveloped copper and gold reserve in Southeast Asia, on concerns over environment, food security and human rights.
The controversial mining project has claimed the lives of dozens of individuals, both for and against the venture.
Deadliest place for defenders
In the Philippines, Mindanao environmental defenders have been the most effective through the years, said Leon Dulce, campaign coordinator of the Kalikasan People's Network for the Environment (Kalikasan), the umbrella organization of environmental and Indigenous Peoples' groups in the country.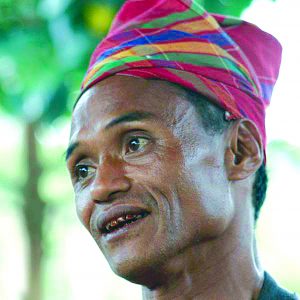 The Lumad, the collective term for Mindanao's Indigenous Peoples, and peasant movements "have sustained their defense of their ancestral lands in the mountain ranges of Pantaron, Daguma, Kitanglad, and Andap Valley from big mines, agribusiness plantations, and timber plantations," he noted.
But they have to pay the ultimate price: "Mindanao is currently the deadliest place in the country for environmental defenders," Dulce told MindaNews.
At least 112 environmental defenders were killed in Mindanao from 2001 to 2018, half of the 223 killings monitored across the country for the period.
Since Duterte declared martial law more than two years ago in Mindanao, at least 28 land and environmental defenders have been killed across the island, Kalikasan said.
Of the 28 killings under martial law, at least 16 deaths or 59 per cent, allegedly involved suspected or confirmed state armed forces, it added.
Dulce stressed that martial law in Mindanao severely "restricted the operational spaces of defenders."
"Martial law in Mindanao is seen as one of the vilest 'investment guarantees' that the Duterte government has implemented to pave the way for extractive and destructive big businesses," he noted.
Dulce stressed that martial law "brought a climate of fear and muzzled the opposition of environmental defenders in Mindanao." They are vilified, threatened and intimidated, and ultimately subjected to unspeakable violence by both private security groups and state armed forces, he claimed.
He cited the case of the eight members of the T'boli – Manobo community in Barangay Ned, Lake Sebu, South Cotabato on December 3, 2017.
"Massacre," "Military operation"
That fateful morning, community members were routinely doing their farm and household chores when their peace was disrupted, their lives changed forever.
Bombs and bullets from the military rained in on Sitio Datal Bonlangon, which hosts a corporate coffee plantation and a proposed coal mining project that the Lumad community, led by Datu Victor Danyan, had staunchly opposed.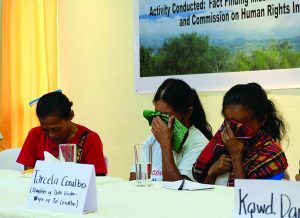 When the smoked cleared, eight were found dead, including Datu Victor Danyan, who suffered a single gunshot believed fired by a military sniper, and two of his sons. Two soldiers were also killed.
"Massacre," the Datu's sister, Lita Wali, cried.
The military claimed it was a legitimate military operation conducted against the New People's Army (NPA), the armed wing of the Communist Party of the Philippines.
The victims' families and church-based human rights and environmental groups vehemently denied those slain were communist rebels or sympathizers.
Citing the Barangay Ned case, Global Witness said "the imposition of martial law has seen the military attack and bomb indigenous people's territories, and force them from their land."
"Black propaganda"
But the Armed Forces of the Philippines justified the presence of soldiers in remote communities as part of its Community Support Program, which is in line with "Oplan Kapayapaan" or the military's strategy to bring peace and development in areas affected by the communist insurgency.
Lt. Col. Victorino Seño, 1002nd Infantry Brigade deputy chief for administration based in Malungon, Sarangani, said late last month that they have not received any formal complaint about personnel abusing martial law.
Seño told MindaNews they are mandated to secure "the people and public and private infrastructure" from threat groups, explaining the state forces' presence in remote communities that critics decry as a form of militarization.
The 1002nd Infantry Brigade's areas of operation cover the whole of Sarangani, South Cotabato, Daval del Sur, Davao Occidental and parts of North Cotabato and Sultan Kudarat.
That the military is being used or is using martial law to stifle dissent among environmental and land defenders and remote communities is a "black propaganda" against state forces, he argued.
"The military is always ready to face formal charges of human rights violations," he said.
Seño turned the tables on the human rights defenders and the NPA rebels, saying that remote communities "would not have been chaotic if they don't have a presence there."
"Enemies of the State?"
In its report released July 2019 entitled "Enemies of the State?" Global Witness described the Philippines as the "world's deadliest country" in 2018 for land and environmental defenders.
Last year, 30 defenders were killed in the Philippines, followed by Columbia with 24 and India with 23. Global Witness documented a total of 164 killings in 19 countries, or an average of at least three persons killed each week.
Mindanao, Global Witness pointed out, has become the country's hotspot for murders of land and environmental defenders, accounting for 67% of the 48 killings in 2017 and a third — 10 deaths — out of 30 cases in 2018.
In the Philippines, half of those murdered last year opposed agribusiness ventures, Global Witness added.
"Duterte's government has not only continued to allow the army to protect private interests but, in implementing martial law, has emboldened them to use force to silence environmental and indigenous activism," the watchdog said.
Malacañang has claimed the deaths of land and environmental defenders were due to alleged "rivalry between claimants."
"That happens if there are conflicts among claimants to a particular land. Killings occur because of the viciousness of the rivalry between the claimants," presidential spokesperson Salvador Panelo said in a Palace briefing on July 30.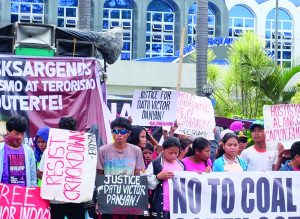 Fighting for their ancestral land
On the Ned killings in December 2017, Pamplona recalled seeing hundreds of empty and live shells of high-powered firearms during a fact-finding mission to the Lumad community shortly after the Datu Victor and seven others were killed.
"All these Indigenous Peoples wanted were to be able to reclaim their ancestral land and live in peace," he said. "They rely on this land for their livelihoods and traditions, and I will not just stand by while indigenous communities are brutally cut down for defending their way of life."
Pamplona said that while the military deployment "could not be questioned since it was a martial law period," the killings of Danyan and company were "clear gross human rights violations."
The Lumads' long struggle for their ancestral lands has sustained through the years, , he added, but at the expense of the lives of defenders such as Danyan.
Pamplona noted that the key to free environmental and land defenders in Mindanao from the climate of fear brought about by martial law is for Duterte to lift it.
So far, Duterte has been mum on the appeal of the rights defenders to lift martial law. But Defense Secretary Delfin Lorenzana last month said he was not recommending a fourth extension of martial law. He reiterated this on December 4, stressing it has taken too long.
Duterte declared martial law all over Mindanao's 27 provinces and 33 cities for 60 days through Proclamation 216 issued on May 23, 2017 in Moscow where he was visiting. The declaration came about eight hours after the first shots were fired in Marawi City on Day 1 of the Siege.
When the 60-day period expired on July 22, Duterte sought and was granted an extension until December 31, 2017, and sought two more year-long extensions that Congress granted until yearend 2019.
Ready to die
Over a decade ago, Datu Danyan, while pointing to the coffee plantation in their community, told this reporter that they were not afraid to sacrifice their lives to reclaim their land.
"We are ready to die for our ancestral land if push comes to shove," he said.
Danyan and seven others paid with their lives on December 3, 2017, in the hands of the military under martial law.
Several religious, human rights and environmental groups openly condemned and demanded justice for their deaths.
Lita Wali, Danyan's sister, blamed the military for what she referred to as a "massacre."
"I was cooking lunch. We heard volleys of gunshots and my brother rushed out of the house to see what's happening. He was gunned down. There was no exchange of gunfire," she recalled.
Danyan was carrying a home-made firearm at that time, which his relatives said he usually used for self and communal defense.
Danyan was believed to have been killed to stifle opposition to the coffee plantation and the proposed coal mining project in their ancestral domain, Sister Susan Bolanio, Executive Director of the Oblate of Notre Dame's Hesed Foundation, Inc., said.
Tagging him as a communist rebel or supporter was supposedly part of the plot to silence him forever. Bolanio added.
Bolanio's foundation has been providing livelihood assistance and helping the community in their struggle to reclaim their lands.
The nun, who herself was tagged last year as a communist by a group linked to the military, denied allegations she and Danyan were rebels.
Target
Complaints were filed against the military commanders responsible for the operation where two soldiers were also killed. But the officers insisted that the tribal chieftain and his companions were supporters or members of the communist movement and that they were killed in a legitimate military operation.
Reiterating his call for the lifting of martial law in Mindanao, Pamplona, the 2018 Soros awardee, pledged to continue assisting the Lumads in their struggle to reclaim their ancestral land.
Erlan Deluvio, Commission on Human Rights-12 director, described Danyan, as "the power and strength behind his people's struggle for their ancestral land."
"To weaken the struggle, he was naturally made the target," the lawyer said.
After conducting an investigation, the CHR held the military liable "for their utter failure to exert earnest efforts in distinguishing combatants from non-combatants under the Principles of Distinction of the International Humanitarian Law," Deluvio noted.
The Philippine Daily Inquirer reported on July 27, 2018 that the National Union of People's Lawyers (NUPL) in Manila filed murder charges before the Department of Justice against soldiers allegedly responsible for the deaths of Danyan and seven others.
In its three-page complaint, the NUPL said their clients, relatives of the slain victims, relocated to Metro Manila due to security concerns and the alleged intensified militarization in their community as a consequence of martial law.
Lt. Col. Seño said no formal charges have been filed against the troops of the 27th and 33rd Infantry Battalions.
Pamplona said Danyan's immediate family opted against filing charges for fear of retaliation from the military.
In a martial law setting, that fear is even more pronounced, Pamplona added. (Bong S. Sarmiento / MindaNews)