She's definitely one of Davao's most famous and respected frontrunners in the field of Arts and Culture. The grand woman is easily recognizable in her own brand of standout fashion; plus she's the only senior citizen I've encountered daring enough to sport an ala Bo Derek braided hairdo. And boy, can this talented woman even sing to outshine and outlive Aawitan Kita's Armida Siguion Reyna. Definitely Davao City's most accomplished and multi-awarded literary figure, the respected Aida Rivera-Ford celebrated her 94th birthday last January 22, 2020, at the Yellow Fin Tuna Restaurant along Buhangin, Davao City. And yes, guests were requested to wear "something Red in your outfit."
Lilia Javellana, Cora Calderon and May Brilliantes, long time neighbors of the celebrator in San Pedro Village, claim that Aida Rivera Ford is one ideal neighbor of theirs to have in their lives. Professor Mac Tiu revealed that the literary figure served as inspiration and influence for him to become a writer of note. Jane Ramos, a former teacher, had Aida Rivera Ford as her best mentor in touching the lives of many of her own students. The artist Banjo and his group were forever grateful to the Patroness of the Arts for all the support she gave them during their struggling days. Veteran writer Don Pagusara was bold enough to sing to Aida Rivera Ford Frank Sinatra's "Young at Heart" (in the Bisaya version) which made the madame proclaim that her birthday wish is to reach 105 years old. The only daughter-in-law, Elena de Leon-Ford, sat quietly beside tita Aida all throughout dinner; while niece Nina Ingle was spotted whispering words of affection to her beloved aunt. Friendly hosts Gina T. Lozada and Janet B. de Paz were busy welcoming guests and ushering them to the table where tita Aida was seated.
The literary queen who wore a crown that night while seated on her wheelchair which was decorated to look like a throne declared, "I have a deep feeling tonight on this very special occasion as people who are close to my heart and who are a part of my life are all here with me. Indeed, life is wonderful."
Aida Rivera-Ford was born in Jolo, Sulu, in 1926 to loving parents Judge Pablo Rivera and Lourdes Consunji. She studied for an English degree at the Silliman University in Negros Oriental in 1949 where she made the distinction as the first ever editor of Sands and Corals, the institution's literary paper. She graduated at the top of her batch (cum laude) with an AB degree major in English.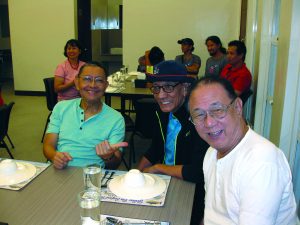 Armed with a Fulbright Scholarship grant, tita Aida then left the country to study at the University of Michigan, USA. She obtained her MA in English Language and Literature in 1954. "Love in the Cornhusks" is one of the five stories for which tita Aida was awarded the Jules and Avery Hopwood Prize in Michigan. This story was hailed by Filipino literary greats like NVM Gonzalez and Epifanio San Juan for its "masterful subtlety but also for its earnest vision—a rare case of art prevailing upon all creeds and manners of persuasion."
Aida Rivera-Ford taught at the University of Mindanao and the Ateneo de Davao University where she reigned as Humanities Division Chairperson for 11 years.
It was in 1980 that she established the first school of Fine Arts in Mindanao—the Learning Center of the Arts with no less than National Artist Victorio Edades among the institution's pioneering faculty members. Now known as the Ford Academy of the Arts, this institution of learning is, perhaps, Aida Rivera-Ford's most valuable legacy in Davao City.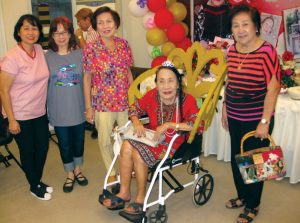 In 1982, Aida Rivera-Ford was recognized and duly honored by the City of Davao for her significant contributions to Culture and the Arts with a Datu Bago Award. She was also a recipient of the Philippine Government Parangal for Writers of the Post War Years in 1984; a Gawad CCP awardee for Essay in English in 1991; and an Outstanding Silimanian for Literary Arts and Culture in 1993. UP ICW named her National Fellow for Fiction in 1993. Aida Rivera-Ford was the director of two NCCA Mindanao Creative Writing Workshops and two UP National Writers Workshops. By 1997, she became President of the Mindanao Foundation for Culture and the Arts.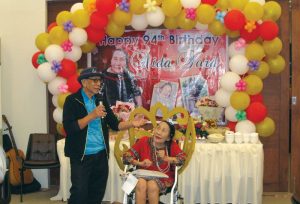 Aida Rivera Ford is the owner of the Riverford Nature Park in Catalunan Grande which features a Literature Park with statues of National Artists Nick Joaquin and NVM Gonzales. In January 2006, she had a Hall of Davao History built at the Riverford Nature Park with a mural and relief artworks of Davao's historical figures like Don Jose Oyanguren.
In an exhibit of sentimental/valuable treasures of prominent Davaoenos held at the Abreeza Mall a couple of years ago, I will never forget Aida Rivera-Ford for exhibiting her treasured pieces of sepia-coloured love letters from her Swedish lover of long ago. I don't know if she has published her autobiography by this time, although Mac Tiu told me later that she already did to his recollection, but the respected writer mentioned that a chapter on "My Super-Blond Swedish Love" would be on the pages of the said book.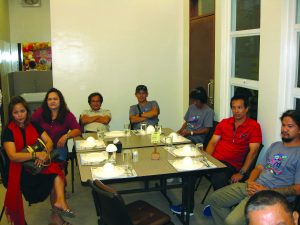 She recalled, "How I finally opened my cabin door to him but refused to give up my virginity…" This happened at a time when the lovers had tried "so desperately to get married after a shipboard romance on the freighter MS Mangabi" where she was the only female on board the ship from New York through the Panama Canal to Los Angeles and across the Pacific to Manila. Yes, a total of a month and a week together in bliss, I'd assume, when "liberated" was not yet in the vocabulary of the conservative Filipina. It was in 1958 though when she finally married Donald R. Ford, then the United States Information Service Director in Korea, with whom she has a son.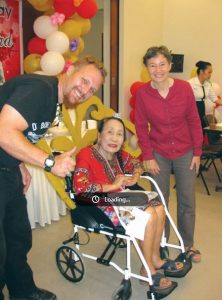 I just love tita Aida's funny story on "Some Assorted Maniacs I Know" where she revealed, "It seems to me that the whole village is just crawling with them—neighbors, professionals, government employees, even my own kin—lilintian! I don't know how I've managed to live this old age and managed to escape from these assorted maniacs and a fate worse than death, although I've seen many also have enjoyed that fate worse than…" And to think that she bothered to compose a song for her village with the title, "Kukurukuku."
Indeed, you don't judge a book by its cover. With the incomparable Aida Rivera-Ford, looks can truly deceive. Happy birthday, tita Aida. May the force of the pen be always with you.