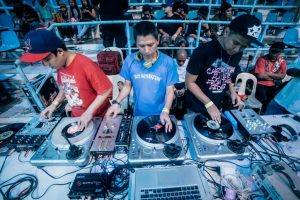 The FlipTop Festival, considered to be the biggest hip-hop festival in the Philippines, has announced its second wave lineup composed of music icons, game-changers, and promising rookies from different parts of the country.
In terms of curation, FlipTop has always maintained its position as a purveyor of local hip-hop's finest. As FlipTop Battle League founder and head honcho Alaric Yuson points out, "we try to keep it as all-inclusive and as well-balanced as possible by selecting among the best, the deserving, and the unsung."
Mastaplann, the legendary '90s hip-hop group, will be joining the previously announced mix of artists, along with veteran rappers such as D-Coy, Mike Kosa, Klutch-B, Apokalipsis, and Mike Swift, and the current crop of hard-hitters including Smugglaz, Shehyee, Apoc, Apekz, Sak Maestro (Davao), Abaddon, BLKD and Calix.
For its second phase, the two-day urban festival will put a spotlight on highly anticipated battle rap pairings known as Dos Por Dos led by Sinio/Tipsy D vs. Jonas/Lhipkram and the much-buzzed face off: Shernan vs Poison13. With FlipTop Battle League breaking global records on Youtube and Sinio's battle rap videos grabbing the top spot of the most viewed "battler" in the world, it would be a travesty not to include battle rap as part of the essential formats of the festival.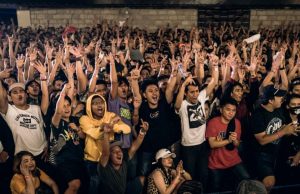 Veering away from the typical festival programming, The FlipTop Festival steps up its game by covering all bases of the hip-hop culture not limited to performance and battle rap. "I think the fact alone that we'll be promoting less-appreciated elements of the movement and acts at the festival will set us apart from the others," the FlipTop Festival founder and CEO shares. "Especially with this one, we're going all out on a scale exponentially bigger than whatever success we might have amassed over the last decade. We're literally plowing land for this event and it wasn't cheap."
Skratch battles and exhibitions by DJs from Batangas, Cebu, Bicol, and other parts of the region will take place on various stages of The FlipTop Festival. Other elements such as b-boying or break dancing, graffiti, and more will also be getting a special highlight.
Aside from introducing various elements of hip-hop to a new set of audience, the upcoming hip-hop festival is also keen on changing people's perception on the movement and giving more opportunities to underrated and underrepresented artists deserving of a bigger platform. "Then there's still the inescapable underestimation and low regard for our genre and culture as a whole," Yuson says. "Our movement, all ten years, has never been about profitability or trendiness or conforming. While most events just go for what's hot at the moment, even if it's in direct contradiction of what they stand for, here we are booking Bisaya-rapping emcees for a stereotypically Manila crowd – just to show them how well these emcees can rock it despite the language barrier. Again, our success and roots are as a rap-battle league. Yet we're still here trying to convince both hardcore battle rap fans and non-hiphop people that, the music, and the whole culture, is worth enjoying and supporting."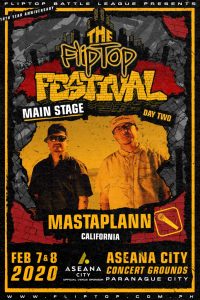 The future looks bright for the first installment of The FlipTop Festival. As of real time, hip-hop enthusiasts and music fans from the US, the U.A.E.,
Taiwan, Japan, Singapore, as well as far-flung provinces such as Basilan, Iloilo, Cebu, Davao, General Santos, Bukidnon and Bicol Region have reserved their tickets to be part of this once-in-a-lifetime event. When asked about the overwhelming positive reception about the new festival, Alaric Yuson takes pride of the festival's insistence to provide a different kind of experience:
"Hopefully, just for all the right reasons; people would appreciate the quality of the line-up, the opportunity to represent and see their own represent as well, the chance to see and partake in celebrating Filipino hiphop's journey, and their trust in our vision, tenure, and integrity. Everyone else who is even mildly curious is definitely welcome. Oh, and everyone that has doubted us along the way, and even until now, is welcome too."
The FlipTop Festival happens on February 7 and 8 at the Aseana City Concert Grounds, Parañaque City. Tickets are available online at ticket2me.net.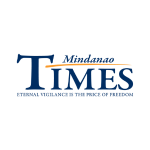 Advertiser posts are paid posts published by Mindanao Times. For inquiries, message us at our Facebook Page, www.facebook.com/MindanaoTimes.