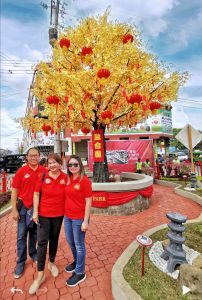 Chinese wishing trees, money trees, or hong bao or ang-pao (traditional gift of money inside a red envelope) trees play a significant part in Chinese New Year celebrations around the world. These symbolic trees gives an opportunity for believers of this Chinese tradition to toss a wish for prosperity, happiness and longevity into these trees.
On the eve of Chinese New Year, January 24, Friday, Davao City's Chinatown got its own wishing tree at The Unity Park, a street island located at the junction of Alvarez Street, Quezon Boulevard and Magsaysay Avenue.
Davao's Wishing Tree, an artificial tree with golden leaves and adorned with Chinese lanterns and hong-bao, found home at The Unity Park. The park is a PhP1.6 million project of the Davao City Chinatown Development Council and the City Government of Davao in collaboration with BDO, Boysen Paint Philippines, and the City Environment Natural and Resources Office.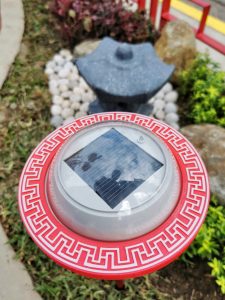 "The concept of setting up a park at the gateway of Chinatown actually came from City Administrator Atty. Zuleika Lopez after her trip to China two years ago. Today, we're glad to have finally seen its fruition," said former City Councilor and a DCCDC Founding Susabel Reta.
The 160 square meter mini-park, an extension of the Arch of Friendship that was erected in August 2008, was designed by DCCDC member Architect Beatrice Jade Go with the help of fellow member Steve Arquiza
"It is basically an Oriental landscaped garden with a gold tree that we purchased from China," said Architect Go.
By night, the park is lit by solar-powered Chinese lanterns and LED garden lamps.
"We're trying to make it as green as possible. Our first concept was to create a sunken garden. However, we realized that the place is too small," she said.
Go said that they are looking for other areas in Chinatown where they can make green spaces  and pocket parks.
So how can one make a wish at the Unity Park?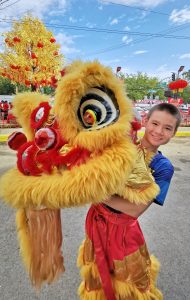 "In China, people would write their wish on joss paper tied to a 'kiat-kiat' (orange), then throw them up to hang in the tree. It was believed that if it successfully hung onto one of the branches, there wishes would come true," added Go.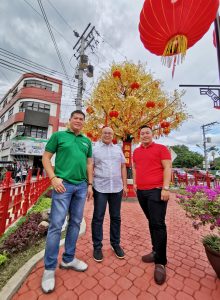 However, if it drops, tradition dictates that one's wishes are" too selfish". But fret not, tradition also states that one should not give up, and to just keep on throwing until one succeeds to make his or her wish come true.
Kiong Hee Huat Tsai!