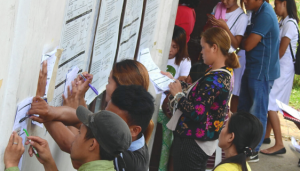 The Commission on elections (Comelec) reminded registrants to bring valid IDs or proof of identification to their office for the registration.
Comelec spokesperson Krisna Samantha Caballero revealed that some people were turned back when they couldn't present a valid ID.
"It is important that they have valid IDs because it has been our requirement for registration. Some people don't have their valid IDs yet, that's why many of them were not able to process further," she said.
According to Caballero, documents such as the barangay clearance, community tax certificate (cedula), and police clearance will no longer be honored during the registration.
"However, if for example, you really don't have your IDs with you because it was lost during a fire incident, then you can request for an NBI clearance. It will be considered," she said.
Failing to present a valid ID would cause a delay in the registration, as the registrant cannot proceed to steps two and three. "This will be a hassle to their part as they go here just in vain because they don't have their IDs," she said.
She clarified that only government-issued IDs will only be honored for registration.
IDs and certificates that will be honored are the following: Profession Regulation Commission ID, Philippine Statistics Authority certificate, senior citizen's ID, driver's license, National Bureau of Investigation clearance, student ID, passport, Integrated Bar of the Philippines ID, and postal ID.
Caballero also expected that the 87,000 deactivated voters last year would register again this year. The deadline for the registration will be until September 2021. She also said that the 900,000 registered voters last year may increase as the first few days of registration were flocked by thousands of people.