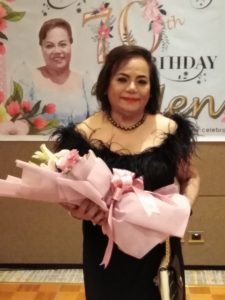 She is one Filipina who resides in Maryland, USA who comes home to Davao to spend her birthday with family and close friends, especially her walking buddies. Every January 7, Belen Saramosing-Ramirez invites friends to her birthday party, be it a simple merienda or a buffet dinner at the hotel of her choice.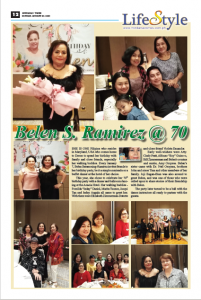 This year, she chose to celebrate her 70th birthday party with a dinner and ballroom dancing at the Acacia Hotel. Her walking buddies – Pomilda "Inday" Daniel, Marita Tuazon, Jacqui Tan and Inday Angala all came to greet her. With them were Elizabeth Zimmerman-Duterte and close friend Violeta Escandor.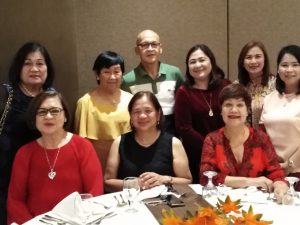 Early well-wishers were Atty. Cindy Pratt, Alfonso "Boy" Guino-o, Bill Zimmerman and Belen's cousins and auntie, Amy Oropesa. Belen's sister came with Dr. Neil Oropesa, brothers John and niece Tina and other members of her family. Joji Ilagan-Bian was also around to greet Belen, and was one of those who were called upon to share stories of their friendship with Belen.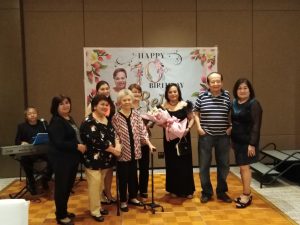 The party later turned to be a ball with the dance instructors all ready to partner with the guests.