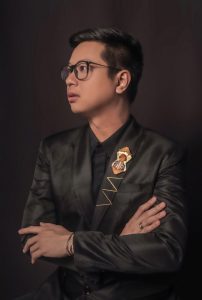 Tall, mestizo and handsome, he could easily have made a name for himself as a fashion model. But Christopher "Toping" Lim Zamora was fated to become a fashion designer instead. And a successful business-minded fashion designer at that. A Fashion Design graduate of the Philippine Womens College in 2017, the talented Toping was the Grand Prix Winner of the Kadayawan Ball (2018); the Grand Prize Winner of the Stellar Young Designers Competition (2019); and the lone Mindanaoan finalist in the Cultural Center of the Philippines/Bench TernoCon 2020 Competition.
"When I graduated from high school, I was actually torn between my love for fashion and choosing a more practical course in business as I am business-minded. I eventually chose Business Administration as my parents wanted me to have a legit Bachelor's Degree. Fashion Design back then was just a certificate course so they didn't allow me to pursue it. But I studied Fashion Design as my second course at the age of 33 years and my parents were very supportive. It was actually my father who encouraged me to venture into the pret-a-porter line and get more exposed with the indigenous lumad communities in our region," revealed Toping.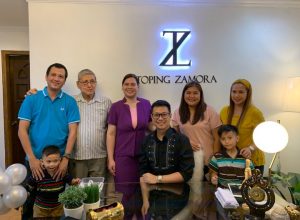 Toping is among the fashion designers of Davao who has primed himself as a catalyst of socially conscious fashion entrepreneurship. He is one passionate and conscientious fashion designer who collaborates and promotes a creative community among the B'laan weavers of Kiblaawan, Davao del Sur, and the Bagobo-Tagabawa weavers led by Bae Arlyne Salazar of Lubogan, Toril. Toping has his heart on the environmental impact and mutual cultural awareness between the designer, the lumad artisan weavers and the fashionista consumer.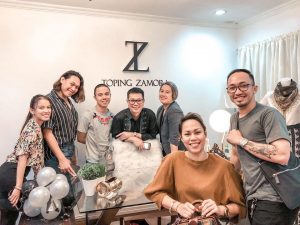 "Mindanaoan-inspired design has become my trademark and branding. Mindanaoan-inspired fashion is, to my opinion, already a classic. It was just hidden in the archives of many Mindanaoan fashion designers. Today, there is an awareness and love for innovative Filipino designs, the rich variety of traditional handwoven fabrics and Filipino fashion accessories. Indeed, Filipiniana has redeemed its stature. Filipinos are now becoming more aware and more interested in local fashion and are patronizing locally-made products. They have come to appreciate our very own culture and heritage. And this is rightly how it should be. Our brand should represent our culture," opined Toping.
"My 'orden de vida' clay beads is my very own signature. These are handmade clay beads that I make myself and use them for embellishing my garments as a good alternative to using synthetic beads. I love using design patterns inspired by the Bagobo-Tagabawa pangulabe." Toping's fashion collection combines the two key elements that have gained him fashion recognition: the rigour of tailored yet feminine outfits and the romance and drama of highlighting painstakingly handwoven Mindanaoan fabrics of life in his creations. Indeed, the old and the new in fashion exist side by side in Toping's fashion creations. His exquisite finish, the feminine silhouettes, and the impact of colorful, traditional handwoven fabrics combine to create timeless yet contemporary fashion. But of course, designing for Toping is a two-way conversation with the women who seek his professional help.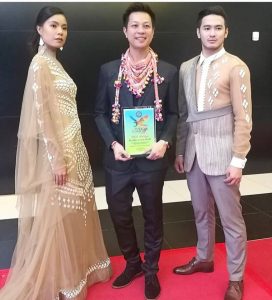 "I have so much respect for Davao's Fashion Czar, tito Boy Guino-o. I am also a big fan of Cary Santiago whose patience and attention to details are just impressive. I am influenced by Iris Van Herpen, a Dutch fashion designer who is widely recognized as one of fashion's most talented and forward thinking creator of complicated haute couture. I also like the globally celebrated German designer, Karl Lagerfeld, who has designed for Chanel and Fendi. The American Marc Jacobs is another inspiration who is considered one of the most influential people in the world; and is known for his 'street wise aesthetics' in fashion."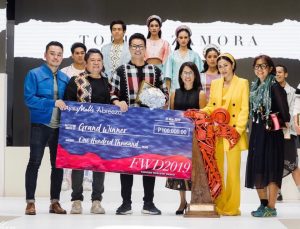 Happily, it is Purita Arsenia "Joji" Ilagan-Bian whom Toping considers as the fashion icon of Davao City. "She has always been consistent. I just love her styling and attitude," he says of my fashionable palangga as he added, "Of course, I also consider the talented Heart Evangelista as a fashion saint."
Christopher Lim Zamora recently inaugurated his new shop at Unit A, 2nd floor Valencia Corporate Center along Arellano Street, Davao City. Congratulations, Toping, and wishing you more creativity.