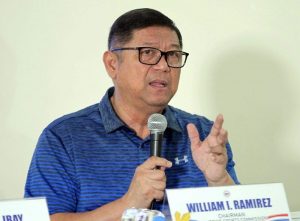 The Philippine Sports Commission opened the doors of its newly-refurbished Philsports Complex for national para-athletes training for the 2020 Asean Para Games.
"The renovations done in both Rizal Memorial and in Philsports are primarily for our elite athletes," explained PSC Chairman William Ramirez.
Despite being weeks away from its official turnover, the PSC has already opened the complex in Pasig City to support the national para-athletes' preparations for the biennial meet which was rescheduled on March.
"Our national para-athletes are inspired to work harder as they use the new facilities inside Philsports. We thank the PSC for supporting us," said Philippine Paralympic Committee Executive Director Dennis Esta, who added intensive trainings in the said PSC facility are now on-going for athletics, power-lifting and sitting volleyball.
Meanwhile, Ramirez has announced that with the help of NCC and Perez, bemedalled para-swimmers Ernie Gawilan, Garry Bejino and the rest of the swimming team will also allowed to train in the Class-1 FINA-certified swimming facility of the NCC by the fourth week of the month.
"We want to duplicate the same success Team Philippines had taking top rank of the 30th SEA Games. The PSC will continue to give its full backing to the more than 280 national para-athletes competing in the Para Games," shared the agency chief.
The Asean Para Games is scheduled on March 21 to 27, with 16 sport disciplines in 14 different competition venues in Metro Manila, Subic and Clark.