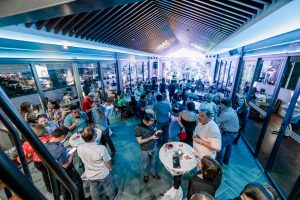 It was last year when Bormaheco proprietor, tito Boy Cervantes, along with my jolly nephew, Jon Magallanes Cervantes, revealed their plans of putting up a high-end restaurant and bar at the Roof Deck of the Cervantes family's then newly built Bormaheco Building II. The building is situated at the Bormaheco Compound along the busy section of J.P. Laurel Avenue, Davao City. With business partners cum friends namely T.J. Aviles, Poypoy Canusa, B. Canusa and Brian Good, the sleek and chic Omerta Bistro + Lounge was opened to the public in time for the holiday season 2019.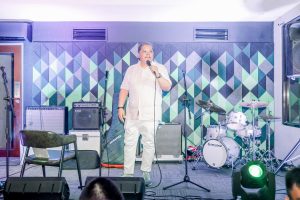 Naming the restaurant/bistro "Omerta" came from a Mario Puzo novel as suggested by Poypoy Canusa. The Canusas are the official building contractor for the Bormaheco Compound structures. The Italian word "Omerta" as practiced by the Italian mafias, is a "code of silence about a criminal activity and a refusal to give evidence to authorities." The code of silence and secrecy forbids members from betraying their "brothers" to authorities or rival gangs. The Omerta Code of Silence professes, "He who is deaf, blind and silent will live." Oh yes, the penalty for disobeying the oath is death. But I assure you, there's no criminal activity or monkey business going on at Davao's Omerta Bistro + Lounge. It's the latest venue for gourmands, foodies and yes, even restaurateurs checking out the new competition in the food business.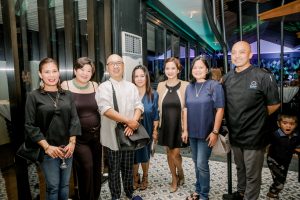 So as the name suggests, Omerta offers a fresh and contemporary version of rich Italian flavors with some well-loved Spanish dishes that are quite popular as comfort food served on special occasions for Davaoenos. "The goal is to transform the way Davaoenos or Mindanaoans for that matter will appreciate Italian and Spanish cuisines served with a home-cooked touch at the stylish and chic Omerta Bistro + Lounge setting," so revealed the restaurateur and Omerta PR man, Paul Garcia, without worries about a code of silence regarding the bistro. Italian and Spanish cuisines are among the global cuisines that Pinoys are so fond of.
Naturally, the three iconic traditional Italian dishes of pasta, pizza and risotto are deliciously offered at Omerta by its New York-trained chef, Allen Qua from Manila. On a night out at Omerta with visiting relatives Monina Suarez Magallanes from Australia and Judy Magallanes Cervantes from Manila along with my brother Paul and his wife, Mimay, we ordered the chef's recommendation for the primo (appetizer), secondo (main course), contorto (a platter of veggies which accompanies the main course) and dolce (dessert) to end the meal.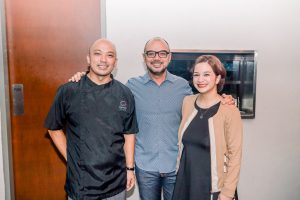 We started the dinner with the Caesar salad with grilled chicken and chef Allen's special salad dressing which was quite a new and refreshing taste for us. Next came the Spanish chorizo frito fried in olive oil, garlic and chili peppers; plus the tender salpicao of marinated beef tenderloin cooked with lots of garlic and chili flakes on it. Yummy, indeed. Of course we had to try the meat lover's pizza of marinara sauce with a generous topping of pepperoni, Italian sausage, bacon and mozzarella cheese.
For the secondo, we just had to have our fill of paella mixta of saffron rice mixed with seafood, chorizo, smoked bacon, and chicken cooked until the sacarrat (the crunchy layer of rice at the bottom of the paellera) was formed. Chef Allen's paella version tastes different from the traditional paella served in most Spanish restos. It had a distinct flavorful taste all its own which we loved. We also ordered the roast beef belly of a four-hour roasted US Creekstone beef (which came served with mushroom au jus, apple sauce and a hot sauce concoctionof your choice) and potatoes and buttered vegetables. The baked rosemary chicken in cream truffle mashed potato was rather dry that you really have to sprinkle the chicken au jus on it to moisten it.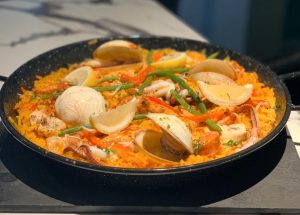 To end the meal, we had our taste of pastry chef Bea Qua's delightful dessert of Malagos dark chocolate truffle. Sweet-toothed we Ilonggos are, we just loved the layer after layer of moist chocolate cake, truffle filling, ganache and the light dusting of cocoa powder. Thanks to Omerta, we were given a complimentary plate of dark chocolate cigars which are chocolate-covered cookie tuiles filled with mascarpone and cream cheese paste which is Omerta's take on the classic Sicilian cannoli.
My fourth visit to Omerta with the artiste Ann Tiukinhoy-Pamintuan as guest was on a lunchtime. Believe me, finding a parking space was truly horrific if not for Archt. Tintin Kong-Canusa who assured us of a slot. But, according to Ann, it was worth the parking trouble with what we had for our Omerta lunch. Honestly, I prefer dining in Omerta at night when it's cooler and calmer and the darkness covers the unsightly scene of the rusty roofing of structures in the vicinity. You see it all, for after all, you're on the seventh floor of the building.