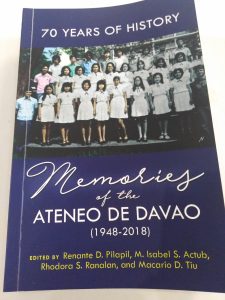 Seventy years of history unfolds in this book of memories which spans from 1948 to2018. A book launched on December 30, 2019 gives us an insight into the highlights of the existence of the Ateneo De Davao.
After the Eucharistic Celebration attended by the Golden Jubilarians of the ADDU, Yahung Arroz Caldo breakfast was served and a brief socialization took place before a Coming Home Program was held.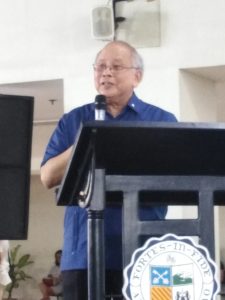 Fr. Joel E. Tabora, SJ, President of the Ateneo de Davao University says "What better way of celebrating the seventieth anniversary of our Ateneo de Davao University than to recall the history of this Catholic, Jesuit and Filipino University in Davao founded in Davao in 1948".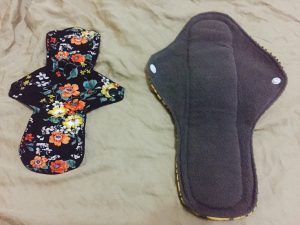 The book carries a Foreword by Fr. Joel Tabora, Preface by Renante Pilapil – Editor-in-Chief, Tambara, an an Introduction by Macario D. Tiu.
Contents include Genesis – Five notes on the inauguration of the Ateneo de Davao by Fr. David John M. delos Reyes, SJ and an account of The First Graduating Class by Nunello Edillon. Also in the book are contributions on the various topics: Men and women for others; Community building; The Martial Law Period; Bantayog ng mga Bayani l Holistic Formation: Academic, spiritual, social; In the service of Mindanao and beyond; The Presidents of the Ateneo de Davao (1948 – 2018) and Jesuit Notes. The Ateneo de Davao in Photos is also featured in the book.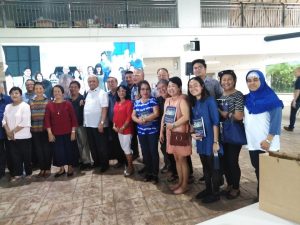 During the Book Launching, Mr. Renante Pilapil, Dean, School of Arts and Sciences, gave a background of the Book.
The book, 70 Years of History – Memories of the Ateneo De Davao was edited by Rebabte D. Pilapil, M. Isabel S. Actub, Rhodora S. Ranalan and Macario D. Tiu.