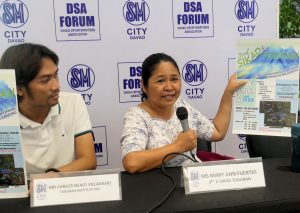 Davao City – Riders from all ages are expected to show their wares in the 3rd Sikad Tuburan Alang sa Kabataan Ug Kinaiyahan: Ipakaylap ang Kahayag this March 1 starting at the Tuburan Institute at Purok 8, New Loon, Barangay Tugbok.
Mary Ann Fuertes of the organizing committee and Carlos Neiko Villamero of the Tuburan Institute Incorporated bared the details on Thursday's edition at the Davao Sportswriters Association (DSA) Forum at the SM City Davao.
"We are expecting some 200 riders to join the event which will have the Fun Ride and Competitive divisions," said Fuertes who added that this year's ride will be a tribute to ride Jomar Bolo, a relative of race director and veteran rider Hilario "Boy" Ladra.
Age categories for the Fun Ride are the 7-12 years-old, 13-29 years-old, 30-39 years-old and the 40 years-old and above. For the Competitive are 18-29 years-old, 30-39 years-old and the 40 years-old and above.
It will cover a 25 kilometer trail starting within the Tuburan Campus onto Manambulan Tagakpan Road and back with trophies, medals at stake for the winners.
Onsite registration will be on race date at the Mintal gym pegged at P300 inclusive of packed lunch, souvenir t-shirt and a raffle coupon.
Interested may contact 0905-4024684 or 0933-4681783.