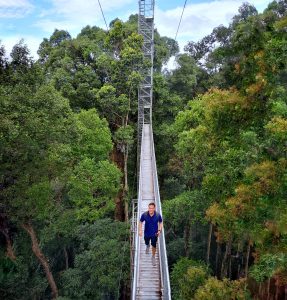 The humming of birds harmoniously melded with the whooshing sound of the river as our river ferry knifed through the crocodile infested waters of Ulu Temburong.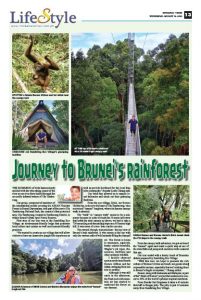 Our group, composed of members of the international media covering the ASEAN Tourism Forum in Brunei Darussalam, took part of the tour to Ulu Temburong National Park, the country's first protected area. Ulu Temburong, located in Temburong District, is within Brunei's Batu Apoi Forest Reserve.
First stop of our tour was at the Sumbiling Eco Village, an environment-friendly lodge that promotes local culture and cuisine as well environment-friendly practices.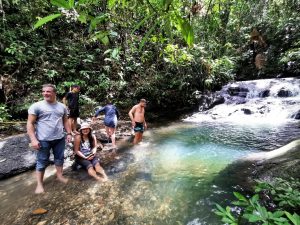 "We wanted to create an eco-village that will allow visitors to have an immersive jungle life experience as well as provide livelihood for the local Iban tribe community," founder Leslie Chiang said.
Our brief stay allowed us to sample local delicacies and check out their glamping facilities.
From the eco-village, Erick, our Borneo Guides rep, took us to the heart of Ulu Temburong, via a motorized "temuai" longboat, where its famous canopy walk is situated.
The "walk" in "canopy walk" seems to be a misnomer because in order to reach the 50 meter tall tower that holds the steel canopy up above, we had to take a 750 ascending and descending steps on a 950 meter high hill. It was more of a two- hour cardio exercise.
The reward, though, was priceless – the top view of Brunei's lush rainforest. It was serene at the top with only the various calls of wild animals filling the tranquil air. The forest is home to macaques, squirrels, bushy crusted hornbills, Wagler's pit viper, rhinoceros, swiftlets and other endemic wildlife.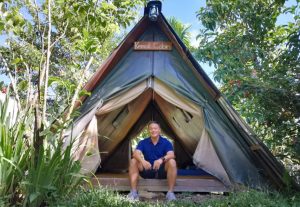 I luckily chanced upon a rarely seen female Borneo Gibbon and her infant, swinging from one tree to another.
Although it was still early in the afternoon, the fresh and cold mountain air has started to enshroud the forest on our descent.
From the canopy walk adventure, we got on board the "temuai" again and made a quick stop at one of the waterfalls and pampered ourselves with a natural fish spa.
Our tour ended with a hearty lunch of Bruneian dishes prepared by Sumbiling Eco Village.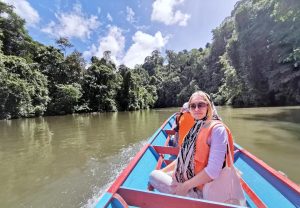 "With this tour, we hope to promote the rich culture of Borneo's tribes and teach our guests about responsible tourism, especially that we're taking them to Brunei's fragile ecosystem," Chiang added.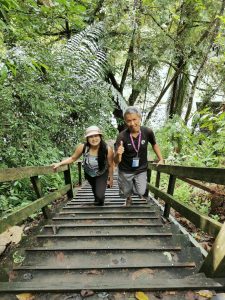 Brunei, along with Indonesia and Malaysia, is part of the" Heart of Borneo" project that endeavors to conserve 30% of the world's pristine tropical rainforest.
From Bandar Seri Begawan it takes a 45-minute fastcraft to Bangar jetty. The jetty is just 10 minutes away from Sumbiling Eco Village.